This post was written by my good buddy Jim Wang, who sold his blog Bargaineering.com for over 3 million dollars. Yes you read that correctly…3 million bucks.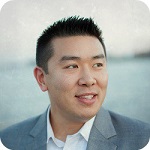 And remember how I've mentioned in the past that it's important to attend conferences? Well Jim and I met in the elevator during the 2012 financial blogging conference and we've kept in touch ever since.
Here's how our first meeting went down.
Random Girl Standing Behind Me In The Elevator: (Whispering) Oh…my…gawd…That's Jim Wang.

Me: Who the hell is Jim Wang?

Random Girl: Heeelllllo?? Jim Wang…the man behind Bargaineering.com???

Me: Ah….ok. My bad. Looks like a regular Asian dude to me. Why is he wearing sweatpants to the mixer?

Random Girl: TCH…whatever (turns away)

Me: Hey Jim. My name is Steve. Long time reader here. Always wanted to meet you in person. (I know. I'm full of it. But he bought it:)
Anyways, after selling Bargaineering, Jim has launched and experimented with many other online businesses. Today, he writes for Microblogger.com where he teaches others how to run a successful blog. In today's post, he's going to share his story and hopefully fire you up to start your own business.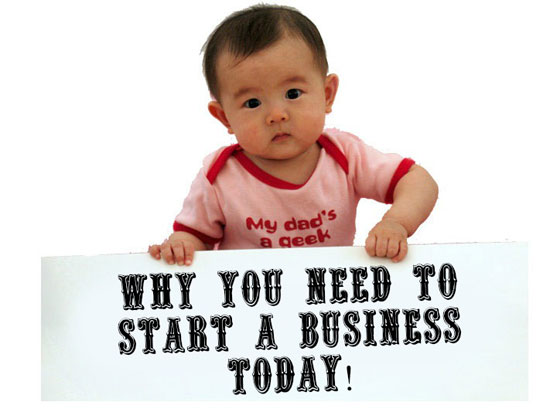 Unless you've been completely disconnected from the Internet for over a decade, you are probably familiar with Groupon, or one of its million clones. Groupon is a daily deal service that aggregates deals to restaurants, retailers, and service providers to get you huge discounts on their products or services. When it IPO'd in 2011, it was the biggest IPO by a U.S. web company since Google.
Even today, since losing a bit of its luster, it has a market capitalization in the billions of dollars.
Groupon was founded by Andrew Mason, who is reportedly worth somewhere in the neighborhood of $200 million.
Here's the kicker – Groupon wasn't Mason's first start-up. He started a site called The Point, which was a social initiatives platform. The Point tried to rally groups of people around a particular social issue and was never meant to make money. It never took off but one group within The Point rallied around the idea of group buying a product. That became Groupon.
That story resonates with me because it's a much (much) larger version of my own. In 2003, once I started working full time, I knew I wanted to start something on the side. I wanted something to generate a modest income, nothing too big, but I wasn't sure what it was I would do.
I knew I enjoyed traveling and, since it was before the days of Kayak and Hipmunk, I felt that there had to be a better way to search for travel. My friend and I partnered up to start a site called Ease of Travel (my ability to name websites is the stuff of legend). He would develop the searching capability, I would do travel and other "hot deals" to keep the proverbial lights on.
As luck would have it, I stumbled upon blogging and felt like it lent itself to writing more long form articles about hacking deals. Those eventually, about a year later, morphed into writing about personal finance because that's what interested me in early 2005, a short time into my working experience. The rest, as they say, is history.
The key lesson here is that you need to start your business today.
Mason took group action towards a goal and put it towards group buying. I took the notion of a blog about deals and morphed it into a blog about personal finance.
Let's dispense with the stories and get into concrete reasons why you should start today, even if you're not 100% sure what you're going to do.
You Learn A Tremendous Amount By Doing.

Have you ever picked up a new hobby? I remember when I first started playing golf.
I started by doing a lot of reading and watching a lot of videos. I understood the mechanics, the kinetics, and how challenging it is to stay focused and calm when things aren't going your way.
Then I went out on the golf course and it went flying out the window. Reading articles, listening to podcasts, and watching videos are all well and good but until you go out there and do it, you haven't really learned anything.
Shank a golf ball into the woods, no big deal. Shank three balls in a row while your friends are waiting for you, big deal. Try staying calm, it's not going to happen.

The same is true in any business. You can read about starting a business all day long. You can read about it until the day you die, but until you start one you won't truly know what it's like to run a business.
Where You Start May Not Be Where You End Up.
I told Mason's story and then my story because they illustrate an important point – you probably won't get it right the first time, but you'll learn a ton along the way. You may learn that the business you wanted to start just isn't viable. This isn't a moment to cry and feel badly about your failure, it's a time to pivot and change your strategy.
I created a deal site because I saw the popularity of Fatwallet, Slickdeals, and the million other "hot deal" sites. I realized I couldn't compete with them and pivoted, turning Bargaineering into a site focused on personal finance. I took the lessons I learned, in affiliate marketing, conversions, and search engine optimization; and committed them to the personal finance with great success.
I would never have created Bargaineering the seven-figure personal finance blog if I didn't create Bargaineering the failed hot deals site.
Start Simple And Start Small. But Start.

The idea of the Lean Startup, by Eric Ries, is a powerful one. The core idea is that you should keep things as simple as possible, release a product, and improve it based on feedback. Rather than build a huge product or doing a ton of market research, just build a prototype quickly and use the feedback you get to improve it.
I think this applies to any business. If you want to start a store that sells blue widgets, buy a few widgets and try selling them. Don't invest in building a website, installing a shopping cart, and researching your advertising options.
Just get some widgets and sell them on eBay. Sell them at the places people buy blue widgets. As demand for your blue widgets increases, you can start adding more to your business to meet the demand.
If there is no demand, you saved yourself the pain of building a website, installing a shopping cart, and researching your advertising options.
Why Not Start Today?
What's holding you back from taking that first step? Is it because you're too busy? Is there too much competition?
Let me tell you about The Happy Housewife. It's a mom/lifestyle blog in a world where there are tens of thousands, if not more, of similarly themed blogs.
Toni Anderson, who runs it, also consults with big brands (such as Savings.com), and throws a conference known as Digital CoLab.
Oh yeah, and she has seven kids. And she homeschools them. And her husband is deployed in Afghanistan for a year.
She may be superhuman but she's also busy and operating in an arena with a ton of competition.
How does she do it? I don't know but I suspect she doesn't spend a second worrying about competition or how busy she is. She just plows ahead and executes.
Are you worried your idea isn't good enough? Fortunately, human beings can't predict the future.
Let me illustrate this with a story. Several years ago, a handful of personal finance bloggers joined forces to create the Money Blog Network. We were all separate bloggers doing our own thing, all of us doing it on the side and having fun doing it.
We would learn from each other, swap stories and strategies, and help each other out. None of us were particularly popular when we joined forces, the personal finance blogging community was quite small back then, and none of us knew what was in store for us.
Fast forward – four of those blogs were acquired for amounts in excess of a million dollars. All started as hobby sites. Never in a million years would you have guessed that a personal finance blog would reach that height – let alone four. That four personal finances blogs, started by four totally different people across the country, would each find success on that level is unimaginable.
I shudder to think where I'd be if I hadn't started that business so many years ago.
Start something today and tell me about it. If you want to start an ecommerce store, Steve has got you covered
photo credit: Mr Shiv jakeandlindsay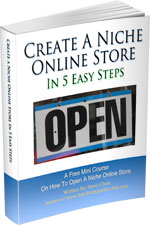 Ready To Get Serious About Starting An Online Business?
If you are really considering starting your own online business, then you have to check out my free mini course on How To Create A Niche Online Store In 5 Easy Steps.
In this 6 day mini course, I reveal the steps that my wife and I took to earn 100 thousand dollars in the span of just a year. Best of all, it's absolutely free!
Note: This post above may contain affiliate links, which means that I may receive a commission if you make a purchase when clicking a link. Please consult our privacy policy for more information.
Similar Posts
Have you read these?