Once upon a time, there was a man who lived in a 300 square foot house with his wife and 3 kids. Because he did not have a college degree, one of the few jobs he could get was a sales associate position at a local electronics store.
While he felt lucky to have a job in a poor economy, the pay was not that great and the cost of living was so high where he lived that he had to work long hours and even on nights and weekends to make ends meet and provide for his family.
Because he was a hard worker and extremely focused, his discipline and dedication to his day job at the electronics store eventually paid off and he was promoted to manager of the car stereo installation department.
While this promotion carried with it a decent raise, he still found himself struggling to save money and meet the ever increasing needs and costs of raising a family.
Even though the electronics store where he worked became the top selling car stereo store in the area due to his efforts, he found that he had reached a plateau in terms of salary.
In order to increase his net worth and make more money, he had to think of another way to make ends meet…
Taking Action
So one day, he sat down and brainstormed. Looking over the cars he'd worked on for the past few years and all of the car stereo installations he'd performed, he started noticing some trends with certain makes and models of cars.
In fact, he discovered that he was doing an unusually high number of repairs for one particular American made car model.
And strangely enough, they all had the same problems…. As it turned out, this one particular car model had reliability issues with its tweeters.
Over the span of a few years, these tweeters would blow out and have to replaced with the same faulty set of factory tweeters which would then blow out again 1-2 years later.
In fact, there was always a constant line of these cars getting their tweeters replaced on a regular basis.
One day on a whim, he decided to create a set of replacement tweeters on his own to see if he could make something better and more reliable than the original factory made speakers.
Sure enough, his speakers not only produced better quality sound but they weren't plagued with the poor reliability problems of the factory tweeters. And on another whim, he decided to throw up a website to see if could sell these tweeters online.
With just 6 bucks and a free 100 dollar gift voucher for Adwords, he launched his website with a small PPC campaign. And within a day, he sold 6 kits for 100 dollars a piece!
Because his costs were extremely low, most of that money was pure profit. After noticing that his Adwords conversion rates were through the roof, he decided to max out his Adwords campaigns and managed to make over 60K in his first year of business with just a single product.
With the success of his first product, he decided to launch several more car related products based on his car stereo expertise. Today, he earns 5-6 times the salary of his day job with his small side business alone.
His Killer Niche
Because this man happens to be my brother-in-law (technically he's the brother of my brother in law), I'm really happy to see how well he's done for himself these past 3 years.
Just for fun, I did a quick evaluation of the small niches that he now dominates with his store. According to the Google Keyword Search tool, only 36 people search for his tweeter product on a daily basis but since it's such a tiny niche, he converts at well over 20% because he dominates it completely.
The other products that he sells have similar conversion rates because his customer is so targeted and so laser focused that he owns almost the entire market.
His success clearly demonstrates why opening a niche online store is so powerful! Unlike people who launch niche informational sites and try to make money with affiliate marketing or online advertising, you don't need a large niche at all to be successful with an online store.
Whereas you typically need to target keywords that yield hundreds or even thousands of searches per day to make money with a niche affiliate site, you can easily make a decent profit with keywords that yield just 50 searches per day with an online store that sells real product.
Because you make significantly more profit for every sale you make with an online store, you can get by pursuing a much smaller niche.
And because you have to source your own product in addition to creating a high traffic site, the competition in the online store space is much less than running a niche advertising site where anyone can just throw up a WordPress site in a matter of minutes.
Many Opportunities Are Still Out There
The reality is that there are still many opportunities to be had. Not every niche is taken and the market is far from saturated. If you sit down and think hard enough, you can find your own profitable niche, start your own side business and take control of your life.
My brother-in-law is the perfect example of someone who was tired of the rat race and decided to pursue a little something something on the side. And the best part?
He knew absolutely nothing about the web and how to launch a website when he first started
He did not invest a huge amount of money to launch his side business
He picked something he was knowledgeable about and went with it
He is way better off and much happier now than when he only had his day job
Today, my brother-in-law lives in a much bigger house, has no problems providing for his family and owes it all to his side hustles. If you can relate to his story, now is the time to get off your butt and take a chance.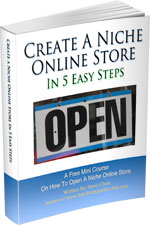 Ready To Get Serious About Starting An Online Business?
If you are really considering starting your own online business, then you have to check out my free mini course on How To Create A Niche Online Store In 5 Easy Steps.
In this 6 day mini course, I reveal the steps that my wife and I took to earn 100 thousand dollars in the span of just a year. Best of all, it's absolutely free!
Similar Posts
Have you read these?