Today's post comes from Geoff, a fellow entrepreneur whose wife also quit her job and author of the free eBook, 10 Powerful Techniques to Increase Affiliate Commissions.
Everyone knows Steve (the guy grinning at you above) is a strong believer in the money-making potential of online stores.
And I completely agree! But there are other ways to make money online that deserve some attention too.
So I asked Steve if I could write about affiliate marketing and he agreed, can you believe it :)?
Editor's Note: Depending on how this article goes, this could be your last guest post:)
Not too long ago Steve ran a post comparing a drop ship store to affiliate marketing. You can probably guess who won.
Drop shipping of course! So today I'd like to open up a friendly debate on why affiliate marketing may actually be a good option for some people. Let's take a look at Steve's post and provide an alternative view to some of his points.
Affiliate Marketing Sites Don't Get Repeat Visitors
Steve's Point: If a customer wants to make a repeat purchase, they'll skip your affiliate site and go directly to the store for subsequent purchases.
And when a customer is pleased with a product, they won't provide referrals or social love to your affiliate site, but rather the store where they actually bought something.
Geoff's Counter Point: If you create an authority website that kicks ass, people will return and recommend.
Steve's Counter Counter Point: Creating an authority website requires an order of magnitude more effort than starting a dropshipped online store so it's not an apples to apples comparison.
See related article: Income Report: How Much Money Do I Make Blogging And Is It Worth My Time?
Thin-content affiliate niche sites are no longer a sustainable business model. To stand out, your site must be a deep resource that comprehensively covers a topic. A good, authority site will focus on solving a significant reader problem and recommend products that help solve different aspects.
For example, a site on home buying may make affiliate commissions on mortgage brokers, inspection agencies, moving companies, insurance, etc.
Covering a broad scope with quality advice keeps the reader coming back for more.
Let me share a little story about an authority site I created, www.FindTheBestCarPrice.com. A few years ago I was buying a car and decided to get prices online.

Being an obsessive, price-hunting freak, I reached out to EIGHT car dealerships and made the salesmen compete for my business. Some might call that excessive, but with only a few hours effort I saved several thousand dollars.

I ended up buying my car below dealer cost and was so excited that I wanted to share my experience with the world.

I made myself an expert on all the financial aspects of a car purchase and created a website that detailed my car buying strategy. I taught people how to get a deal on every step of the car buying process: negotiating car price, haggling a trade-in, finding the best financing, and surviving the Finance Office at the dealership.

Now I don't actually sell anything on this site, but I do make an affiliate commission if you click through one my links for items like financing and insurance.

And because my site talks about every aspect of a car purchase, people will leave to visit partner sites, but they keep coming back to read the rest of my money saving strategies.

And when they brag about their deals, they rarely talk about the car dealership, but instead about the website that helped teach them how to negotiate.

The moral is, if you solve a big problem or add value to a purchasing decision, you can become the real destination.
You Can Make More Money With An Online Store
Steve's Point: You can typically make a 50% gross profit on your drop-shipped goods, however the commission earned from being an affiliate marketer is typically much less.
Geoff's Counter Point: You can make more money per sale with an online store but an affiliate site can potentially earn the same or more as a whole.
I agree that you can make more margin drop-shipping an individual product. But affiliate marketing may result in a higher volume of transactions and a transaction doesn't always mean a purchase of a physical item. Let me explain:
You don't always have to complete a sale to earn money through an affiliate program. Many programs are setup so that if you simply generate a "lead" and the customer provides their contact information, you'll make a commission. In this case, the customer doesn't even have to complete a sale for you to make money.
You can sometimes make more money per visitor by guiding them through a series of steps related to their goal. For instance, if you're providing advice about planning weddings, you could generate commissions from formal wear, jewelry, floral arrangements, DJ's, photographers, honeymoon travel, etc.
Directing people to buy one product through an affiliate site can be more effective than offering a wide range of choices in a store (paralysis of choice). Think about it this way, you're not likely to run an online store that sells just one item. So sometimes people won't buy because they can't make up their mind on your site (yup, this happens). But in the affiliate marketing world, it's quite common to only recommend a single tool or service to solve a problem and that can result in a higher conversion rate.
You can promote many items you can't even buy through an online store. You can be an affiliate of almost anything: solar panels, airfare, car rentals, job search websites, legal services, hosting, you name it. And some of those items have ridiculously high commissions per sale.
There are a variety of ways you can increase your affiliate profits to get closer to the margins of an online store. If you want to learn some of these techniques, download my free eBook: How I Tripled My Affiliate Profits Without Adding Traffic and You Can Too
A Few Other Affiliate Marketing Misconceptions
Steve did mention a few positives about affiliate marketing, but to be fair, I can't say I agree with those either! Here a few common beliefs about affiliate marketing I'd like to debate:
Affiliate marketing is passive: The "passive model" rarely works anymore. Believe me, authority sites take a lot more effort to maintain than thin, niche sites. You've got to constantly add strong content, socially promote and build backlinks, and engage with your readers to be successful.
Affiliate marketing is free: It's not expensive, but there are a few costs to keep in mind. The biggest of which is typically your time (or money for staff writers) to create quality content. Hosting, web design, and an email service provider add up too.
You don't have to do customer support: If you're doing it right, you'll communicate with your visitors a lot. If a visitor asks me a good question, I'll often spend a fair amount of time researching so I can answer them in the comments or privately. The most successful affiliate sites develop a strong community and that means a lot of interaction with your readers.
The Bottom Line
There are merits to running an online store and an affiliate site. But know this, affiliate marketing and an online store are not mutually exclusive!
You can do both within different aspects of your site. Look at how successful MyWifeQuitHerJob has become and this site uses a mix of both models. And here's another thought, why not start your own affiliate program to entice others to start promoting your store?
Readers, do you agree with my arguments? Who's right? Me or Steve?
p.s. Steve- thanks for letting me poke a little fun at your post!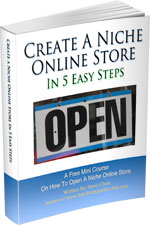 Ready To Get Serious About Starting An Online Business?
If you are really considering starting your own online business, then you have to check out my free mini course on How To Create A Niche Online Store In 5 Easy Steps.
In this 6 day mini course, I reveal the steps that my wife and I took to earn 100 thousand dollars in the span of just a year. Best of all, it's absolutely free!
Note: This post above may contain affiliate links, which means that I may receive a commission if you make a purchase when clicking a link. Please consult our privacy policy for more information.
Similar Posts
Have you read these?