Getting started doing anything is hard, especially something new and unknown. I'm the master at dilly dallying around, procrastinating, and trying to think my way into figuring out if I'll enjoy doing something or not.
It doesn't work though, because your mind is designed to solve problems, real world problems, and when you present it with an infinite timeline, it tends to spin up new reasons why you shouldn't; it hates the unknown.
Let's put our minds to good use. Instead of sitting around wondering, let's get moving and start solving real world problems.
We don't need to invest heavily or make a long term commitment up front. All we need is a simple plan to test the waters that will ease us into new things, allowing us an escape route if we ever hit a wall.
There's only two important questions we need to answer right now…
Is This Something You'll Enjoy Doing?
Dipping your feet in the water is the only way you're going to know if you're going to like something or not. It's no guarantee it'll keep your interest long term, but it's a good way to see if you can sustain interest for a long enough period to see your idea through. The basic premise is simple: fail fast, fail early, and stay as lean as possible.
If your idea is for an online store, time to start setting up shop. This doesn't mean registering for a business license, or having business cards made, or fiddling around with Twitter or Facebook. It means sitting down and thinking about how you can get your product out in front of real customers, as quickly and cheaply as possible.
The way I've done this in the past is to figure out how to build or source my product(s) first and foremost. This exercise alone will show you pretty quickly if you have the stomach for the fight, because in my experience it tends to be the hardest.
It will also let you know the cost associated with securing your products, so you have an idea about how you'll need to price your product to turn a reasonable profit and what kind of margins you can expect.
You don't need to actually buy any product right now. You just need assurance that you can acquire it or have it made. Although, if you're having to build your products from scratch, then it might help to have a few prototypes created to give you an idea of the logistics involved (lead times, cost, quality, etc).
Can You Acquire Customers?
The second question is finding out if there's a market for your products. This means paying customers, and enough to sustain a business. We can accomplish this through a variety of means, but I'm going to focus on creating a "mock" sales site and driving traffic through a paid service, like AdWords.
A mock sales site is nothing more than an impromptu website that showcases your products. It's just like a real sales site, only it's trimmed down to the absolute bare essentials.
It allows you to either test if customers would actually purchase your product (if you have an actual product in your possession to sell) or collect leads so you can start an interaction with real, potential customers.
A free Unbounce account combined with a handful of keywords through AdWords is a good place to start. Unbounce allows you to easily create landing pages and lead generation pages, so it's ideal for getting up and running fast.
Unbounce has a free account that allows you 200 page views, and if you're resourceful, you can find an AdWords coupon that'll get you anywhere from $50 to $100 free. That should be plenty to run a simple test.
If you're selling a host of products, then you may need to put a little more work into the mock site, but try not to get bogged down in details. Your site doesn't have to be picture perfect right now, it just needs to be effective. You could use hosted solutions like Big Commerce or Shopify to set up shop quickly. And both of those offer a free 30 day trial.
The most important thing to focus on at this level is to find customers who are interested in your offering. AdWords may not always be the best source of traffic. Perhaps you could try Craig's list, or Etsy, or Facebook. Or maybe a print ad in a local newspaper? There's an endless number of ways to reach customers, and that's part of the fun.
I was once insane enough that I thought the world needed yet another online dating site. So I thought I'd start local, and I printed a bunch of flyers that I put on cars in parking lots and posted for free around nearby Starbucks.
I also stood outside a Whole Foods one Saturday afternoon and handed out flyers to guys and girls who I thought might be single (don't ever do this by the way, it's a beating and a colossal waste of time). The end result was burn out, but I discovered that I didn't have the chops necessary to start an online dating site.
That's really the goal of all this, is to figure out if your idea fits you. The longer you're willing to continue fighting, the better your chances of finding the right combination of product and market.
I've spent months trying to answer these two questions on certain projects I felt strongly about. I've also spent only a few hours before deciding that my idea was either stupid or didn't suit me. And I'm so thankful I can scratch those things off my list of possibilities.
This post was written by Aron, a regular contributor for MyWifeQuitHerJob.com!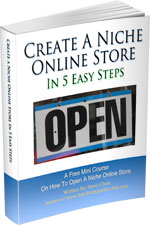 Ready To Get Serious About Starting An Online Business?
If you are really considering starting your own online business, then you have to check out my free mini course on How To Create A Niche Online Store In 5 Easy Steps.
In this 6 day mini course, I reveal the steps that my wife and I took to earn 100 thousand dollars in the span of just a year. Best of all, it's absolutely free!
Note: This post above may contain affiliate links, which means that I may receive a commission if you make a purchase when clicking a link. Please consult our privacy policy for more information.
Similar Posts
Have you read these?