Today, I'm happy to announce that our online store will be featured in the summer 2011 issue of Martha Stewart Weddings magazine! My wife and I are both ecstatic because we've been trying to get Martha Stewart's attention for quite some time now.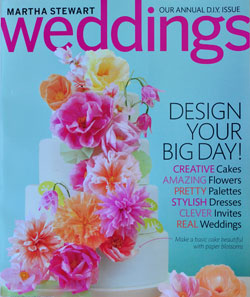 As one of the top magazines in the wedding industry, I am truly humbled that they chose to include our wedding handkerchiefs in their latest issue.
A Mad Scramble
Several months back, an editor for Martha Stewart contacted us on a Friday afternoon asking if we could send some personalized hankies to their offices for a photo shoot the following Tuesday morning!
It was extremely short notice (the package had to arrive on Monday), but we managed to stitch out their request right then and there(something that would have been impossible to do if we didn't do our own embroidery in house) and shipped out the hankies that afternoon via Fed Ex Standard Overnight.
While we weren't guaranteed to be included in the magazine, we went above and beyond by including a few extra items as well. And as luck would have it, they decided to include one of our pieces for the magazine under Darcy's picks.
Every Business Needs Some Luck
After publishing my article on Starting Your Own Business: How To Improve Your Luck and writing one of my most recent pieces on 3 Ways Our Business Improved By Doing Nothing – Sometimes You Just Have To Stick Around And Good Things Will Happen, I must say that I feel truly blessed.
While being contacted by the press and being featured in any magazine requires some amount of luck and fortuitous timing, there have been a few things that we've been doing lately to help improve our chances.
We've Been Improving Our SEO
Every single quarter, our online store continues to rise in the search engine rankings thanks to our SEO efforts. Chances are, if you can make the front page of search for your targeted keywords, you have a fighting chance of getting discovered by the magazines.
The editorial staff at the major retail and event magazines often comb through the search engines and various blogs looking for items to feature in their next issue.
And if they can find you and you have a good looking store with interesting products, you have a decent chance of getting featured. So be sure to put yourself out there not only in the search engines but in blogs and social media outlets as well.
You can also improve your chances by using a free service called HARO to get in touch with reporters directly. Furthermore, you can get the word out about your store by writing guest posts on popular blogs in your niche.
We Continue To Excel In Customer Service
What was also cool about being included in Martha Stewart Weddings magazine was that the editor contacted us by phone to let us know that one of Martha's close friends was thinking about making a purchase from our store.
And he called us directly so that we would specifically look out for this person and provide her with special care and royal treatment.
The truth is that we give all of our customers special care so there was nothing that needed to be said. I sincerely believe that treating our customers with the utmost care has allowed us to grow even faster via word of mouth.
Now why would one of Martha's friends want to buy from us? Perhaps she read our testimonials or heard good things about us through the grapevine.
Perhaps, she enjoyed our section on do it yourself wedding arts and crafts. These days, everybody sells similar items online. The store that a customer will ultimately buy from is a store that stands out from the rest.
Bottom line, my wife and I will continue to run our little online shop with the same great customer service and attractive product offerings knowing that there will be more press opportunities to come.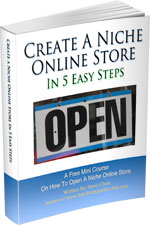 Ready To Get Serious About Starting An Online Business?
If you are really considering starting your own online business, then you have to check out my free mini course on How To Create A Niche Online Store In 5 Easy Steps.
In this 6 day mini course, I reveal the steps that my wife and I took to earn 100 thousand dollars in the span of just a year. Best of all, it's absolutely free!
Similar Posts
Have you read these?