For those of you who aren't business owners, you may dream of one day being in charge. Being a full time entrepreneur is an ambition for many, but as with most things in life, the fantasy can actually be a terrible reality.
If your aim is simply to "own a business", you could be in for a nasty shock. What you should consider perhaps more thoroughly is why you want what you think you want; and by extension, whether or not you actually do.
Pressure
There are plenty of business owners out there who feel utterly overwhelmed by their work. A job can be beneficial for many reasons – security potentially being one of them.
Meanwhile, many entrepreneurs wrestle with cashflow issues on a consistent basis. "Just getting by" on a modest salary is one thing – not knowing whether you will be able to get by from one month to the next is something else altogether.
Related: The Tradeoffs Of Owning Your Own Business Vs Working A Day Job
Don't get me wrong – I am not anti-entrepreneurship. Far from it in fact – I quit my job at the end of last year. I took risks, which I would like to think were carefully calculated. But simply owning a business does not represent a cure-all. Your quality of life, and that of your family's, is far more important than anything.
Full time entrepreneurship does not guarantee a better quality of life – in fact, it could promote an opposite effect.
It's All a Matter of Perspective
I do not intend to climb up on a soap box and preach here. I am no "self-help guru", nor do I consider myself a kind of expert on fulfillment. But I can talk to you about my own experience in setting goals, hitting them, realizing that it wasn't what I really wanted, and completely re-assessing my outlook on life.
Related: What Type Of Entrepreneur Do You Want To Be?
The simple fact is that a lot of people are driven (often subconsciously) by goals that will not ultimately result in their happiness. If you assess what you truly want from life, as opposed to what you think you want, you might be surprised. It is amazing how much a change of perspective can affect your attitude towards every facet of living.
I always wanted money. I used to think that success was defined by your wage. This attitude seems to permeate through the western culture. Keeping up with the Joneses, working hard for a better future, and so on. But eventually, I discovered that it wasn't what I wanted at all.
Defining a Better Goal
The epiphanic moment came for me when I began to understand that time is by far the most valuable commodity we have. Money is a means to an end – it can be earned in abundance, or not. Either outcome does not determine whether or not you will actually be happy.
The simplest explanation of what makes you happy is essentially how you spend your time. If you work 70 hour weeks and earn an enormous amount of money, but you hate your job and have no free time to spend your earnings, do you consider yourself successful? I wouldn't envy that person, nor want his or her life.
I originally wanted to work for myself so that I could earn more money. Now that I do work for myself, I love it because I have control over my time. I can work more hours and earn more money, and vice versa. I can work to increase my income per hour worked. On a daily basis, I can decide what I want to do with my time.
A Balancing Act
The key is in living for the present, as well as the future. One extreme says that you could be hit by a bus tomorrow, so you should live each day as if it were your last. The other extreme says that you should work hard now for a better tomorrow. In my opinion, a balance should be struck in the middle.
When it comes to my definition of success, I consider there to be four key considerations:
Am I earning more than my outgoings?
Are my earnings on an upwards trend?
Am I happy with my future prospects?
Am I happy with my day-to-day living?
When I am setting goals, I ask myself the above four questions. There is nothing wrong with choosing to do less than eight hours work a day because you are happy with how much you are earning. It is not lazy or unambitious. It simply reflects that you are confident in knowing what you want from life.
Owning a business may allow you to satisfactorily answer the above questions, but it is not necessarily the end game – more a means to an end.
What About You?
At this point, I am happy with my earnings as long as they continue on an upwards trend. But what about you – how do you strike an effective balance between living for now and for the future? How do you recognize that sweet spot? Let us know in the comments section!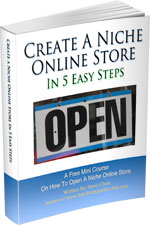 Ready To Get Serious About Starting An Online Business?
If you are really considering starting your own online business, then you have to check out my free mini course on How To Create A Niche Online Store In 5 Easy Steps.
In this 6 day mini course, I reveal the steps that my wife and I took to earn 100 thousand dollars in the span of just a year. Best of all, it's absolutely free!
Similar Posts
Have you read these?