So you've decided to host your own website and open up your online store. Where do you go from here? There are a multitude of shopping cart packages out there and it's extremely difficult to compare them all. Hopefully, I can save you some time and tell you what to look for.
At the very basic level, there are 2 types of shopping cart packages, paid software packages and open source shopping carts, both of which have their advantages and disadvantages.
Paid Software Shopping Cart Packages
With paid software packages such as XCart, Miva Merchant etc…, you usually have to pay an upfront license fee and an additional monthly fee to use their shopping cart package.
If you have the money, these packages appeal to those who are tech adverse and those who require an extreme amount of hand holding to get started. What you are paying for is the tech support and the peace of mind that you have someone to call for help when you have problems early on.
These software packages are usually fixed in terms of features and if you require anything additional, you will have to submit a feature request and wait patiently for them to include the feature in their next release which may or may not ever happen.
These packages can be extremely expensive as well. Some of these carts require an upfront license fee of up to 2500 dollars with recurring monthly costs in the hundreds of dollars.
Today, these paid software packages are not generally a good option for new users who are just starting out with their stores.
Open Source Shopping Carts
If you are aren't afraid of getting your hands a bit dirty, open source shopping carts are definitely the way to go. Not only are open source shopping carts free, but you have limitless freedom to customize your shopping cart the way that you like.
If the base shopping cart is lacking certain features, you can bet that the open source community has already developed a free plug-in that does more or less what you want. The only disadvantage is that you won't have a dedicated support person to contact and you'll have to rely on browsing the forums and asking for help.
However, if you are reasonably competent with the computer, you shouldn't have too many issues. I did not know a lick of html or php when I started but I was able to get up and running with the OSCommerce shopping cart extremely quickly. In general, the people on the forums are extremely helpful. Some of the most popular open source shopping carts available are
Open Cart
Prestashop
Magento
To give you an idea of how easy it is to install an open source cart, I've put together a short video that shows you how to install OpenCart in 5 minutes for under 5 bucks.
My Recommendations
If you are completely clueless and have the money, go with a paid shopping cart package like Big Commerce, Shopify or Volusion. Tech support can at least help you get up and running though they will not help you at all with your overall store design.
If you need help with the actual store design you may need to hire a developer. Relying on a developer is often times hit or miss. The main problem with store design is that it's an iterative process. If you have to call a developer every time you want to make a little tweak or change, these costs can quickly add up plus you'll waste a lot of time.
For those on a limited budget and are fairly computer literate, I will always recommend an open source shopping cart. If you take the time to learn how an open source shopping cart works, you'll be able to make your own tweaks and edits and never be reliant on anyone but yourself.
Regardless of which route you go, you should always look for the following features when choosing an appropriate shopping cart.
Make sure it has SEO features built in.
I can not stress how important this is when it comes time to attract customers to your site. If your store is not optimized for search engines, no one will ever be able to find it. When you are test driving different shopping carts, make sure you pay attention to the following
Do the individual product urls contain key words of the product you are trying to sell?
Does the title of the webpage clearly outline the product name
If you look at the page source, do the description and keyword meta tags accurately describe the product you are trying to sell?
When I'm test driving a shopping cart, the first thing I always do is take a look at the URL. Let's say I'm trying to sell stuffed elephants. If the URL for my stuffed elephant page looks something like this
http://yourstore.com/demo/product.php?productid=70&cat=0&page=1&featured
, then I'll check to see if there's a way to make the url look more like
http://yourstore.com/stuffed-elephants.html
If there's no way for the shopping cart package to make the urls look this way, I'll usually just walk away. Once again, I can not stress how important it is to maximize your chances of a search engine fully indexing your web store.
Make sure its extremely easy to populate your products
Some shopping carts require you to use the web interface in order to load your products into the store. If you have hundreds of products, it could take you weeks to manually load everything on an individual basis. Whatever shopping cart you choose, make sure you can upload your products from an excel spreadsheet or other file based formats.
Make sure you can add attributes to your products
I know for a fact that the default install of OSCommerce does not have a flexible way to add attributes at all. Depending on what you sell, make you sure that the shopping cart you choose allows you to add options and variations to your product line. For example, there should be an easy way to customize a product through the use of pull down menus or check boxes.
Make sure you can easily manipulate and modify orders from the admin interface
When business picks up in your store, customers will want to modify their orders, make returns and make changes to their orders even after they have already checked out. I can not stress how important it is to have the ability to modify orders and provide refunds on one single page in your admin area.
Other Necessary Features
Support for the credit processing gateway of your choice
Adequate customer tracking and the ability to send out newsletters and promotional email campaigns
Ability to support discount coupons
If you run a wholesale and a consumer business, it helps to have the ability to have multiple price lists on a customer by customer basis
The ability to cross sell your products. If a customer has purchased X, recommend him purchase product Y which complements product X.
Real time calculation of shipping costs for all major carriers
The ability to generate sales reports, track popular items and correlate products that are commonly purchased together.
What do I use?
For my online store, I used OSCommerce. Looking back however, I probably would have started with OSCMax, which is essentially OSCommerce with many of the necessary plugins already installed.
While I considered all of the open source packages, the reason I ultimately chose OSCommerce was because I had the most positive experiences on the OSCommerce community forums (This was back in 2007). Everyone seemed extremely helpful and responsive and there were a ridiculous amount of plugins available already.
In any case, no matter what package you choose, you'll never start with something that will fit your needs out of the box. Even if you go with a paid software package, there will be always be a ton of work ahead in customizing it to your own look and feel.
Ultimately, you have to decide which path to take. In going with the theme of this website, my personal recommendation is to force yourself to try and learn something new. Even if you are completely scared of customizing your own online store, the more reason you should go ahead and try and do it yourself.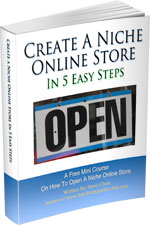 Ready To Get Serious About Starting An Online Business?
If you are really considering starting your own online business, then you have to check out my free mini course on How To Create A Niche Online Store In 5 Easy Steps.
In this 6 day mini course, I reveal the steps that my wife and I took to earn 100 thousand dollars in the span of just a year. Best of all, it's absolutely free!
Note: This post above may contain affiliate links, which means that I may receive a commission if you make a purchase when clicking a link. Please consult our privacy policy for more information.
Similar Posts
Have you read these?