A while back, I wrote an article and made a video on How To Start An Online Store, Own Your Website And Sell Online Without Any Technical Knowledge Required.
And in that article, I demonstrated how anyone can launch a powerful online store for free based on the open source shopping cart OpenCart, without knowing how to code or program.
It's fast, simple and the best part is that you own the code, you have full control and you call the shots!
But after running my online store course for quite a while now, I've come to realize that going the open source route may not be for everyone.
While I usually advise that everyone who is interested in opening an online store give open source a try (or license 3rd party source code) and host their own website, some people require a little extra hand holding in order to get started with their online business.
As a result, it makes sense for certain entrepreneurs to go with a fully hosted shopping cart such as Big Commerce.
Reasons To Go With A Fully Hosted Cart
So why the heck would anyone want to forgo full control and let a 3rd party take over their website backend? Well it turns out that there are many of you out there that don't want to deal with technology.
Some of you don't want to go through the hassle of setting everything up and want everything to just work out of the box.
In fact, there are many advantages of going with a fully hosted ecommerce platform that may not be too obvious right off the bat. Below are some advantages that immediately come to mind
You never have to worry about getting hacked. During the early stages of my online store, I got hacked multiple times. In fact, you can read all about it in my article on How My Website Got Hacked And How I Quickly Recovered. If you don't know how to lock down your website, you could be in for a world of hurt.
You never have to worry about server downtime. When you host your own site, sometimes you can make an edit and screw things up. Sometimes your server goes down and you have to fix it up. Early on with my store, my site used to go down from time to time and it scared the hell out of me. It was only after implementing the following measures did I get my server issues under control.
Backups are usually automated. I remember losing all of my data once and it wasn't pretty. If you don't know How To Automate Backups For Your Online Store , you could lose valuable customer data if your database ever becomes corrupted.
You have someone there to help. Going the open source route can be a lonely endeavor. Basically, you must be a self-learner and know how to use the forums effectively. But with a fully hosted cart, you can usually get someone on the phone within a few minutes.
Of course, all of these benefits come at an increased cost and you sacrifice some amount of control over your site.
Is It Worth It?
A common question I get asked is whether the loss of control is worth it. And unfortunately, only you can answer that question. So today, I put together a video that discusses the pros and cons of fully hosted shopping carts vs open source.
In addition, I've also included a live demonstration of Big Commerce where I demonstrate how quickly and easily you can set up a store from complete scratch using a fully hosted solution.
The Power Of Fully Hosted Ecommerce
As you can tell from the video, you can literally launch an online store in a matter of minutes with a fully hosted platform. But just keep in mind that the costs will all add up as your store matures.
To give you a rough idea, our online store would probably require either BigCommerce's platinum or diamond plan today which costs $150 and $300 a month respectively. In contrast, my wife and I pay just $60 a month to host 6 websites on the same webhost.
Once again, if you are willing to put in the work and learn the ropes, then hosting your website yourself is almost always the best choice. But if want to skip the early headaches and just start selling, then fully hosted could be for you.
Click here to get 1 month free when you try Big Commerce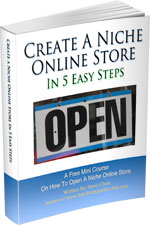 Ready To Get Serious About Starting An Online Business?
If you are really considering starting your own online business, then you have to check out my free mini course on How To Create A Niche Online Store In 5 Easy Steps.
In this 6 day mini course, I reveal the steps that my wife and I took to earn 100 thousand dollars in the span of just a year. Best of all, it's absolutely free!
Note: This post above may contain affiliate links, which means that I may receive a commission if you make a purchase when clicking a link. Please consult our privacy policy for more information.
Similar Posts
Have you read these?