As long as I've been writing tutorials on how to open an online store, I've always advocated going with a free open source shopping cart and hosting it yourself as opposed to signing up for an all-in-one hosted ecommerce solution.
After all, if you host your shopping cart yourself, you're in charge of your own destiny. You have full control over the source and no one can suddenly raise prices on you. Plus, there are many cool things that you can do on your own that the big hosted solutions won't allow you to do.
But after running this blog for a couple of years now and listening to reader feedback, I've come to realize that using an open source ecommerce solution and self-hosting may not be the right solution for everyone.
Some people are just completely tech averse and don't want to deal anything remotely related to computers or technology. While I used to urge these people to learn some of the basics, what would inevitably happen would be that these people would quit before they even got started because they were scared of the technical aspects of running a store.
Of course, some people are just not cut out to be entrepreneurs but I strongly believe that by just giving yourself a chance, you are already half way there. By making it easier to start a business, you are more inclined to take the plunge.
Don't get me wrong, self hosting your shopping cart is still a superior solution in my eyes for the control and flexibility, but I thought that it might be a good time to evaluate some of the leading hosted shopping cart solutions.
What's Out There?
For the last couple of years, I've been recommending Shopify mainly because I had test driven the cart and several of my friends and competitors successfully use Shopify to run their business.
Shopify is an excellent hosted shopping cart, but the main thing I always had against Shopify was that they charge you a percentage of your gross sales. Taking away 1.5% may not seem like a big deal early on, but once your store becomes big, 1.5% can be a huge chunk of change.
Also what sucks is that this 1.5% is applied directly to your revenues and not your profit. If you run a store with low margin goods, 1.5% could mean the difference between losing money and being profitable. (Update: Shopify no longer charges a transaction fee if you use their credit card processing.
I've spent quite a while test driving hosted shopping carts and I found that BigCommerce also offers an awesome hosted shopping cart solution for a low fixed monthly fee. That's right! Just a low fixed monthly fee and no transaction fees whatsoever! Plans start very cheap as well.
Their business model is different than Shopify in that they charge a flat fee based on the number of products that you offer in your store and they also impose a bandwidth limit as well. But outside of the monthly fee and possible bandwidth overages, your fees will not grow linearly with your revenues like with a hosted cart that charges a percentage fee.
BigCommerce makes their money from a fixed monthly subscription model as opposed to taxing their merchants.
The Design Tools Are Better Now
The other thing that I noticed was that the out of the box graphical design tools are now much better with the latest hosted solutions. Normally I could care less about graphical web design tools. After all, you will eventually have to touch html code to make your store look exactly the way you want it to.
However, peering through the eyes of the tech averse entrepreneur, I can see how these tools could be valuable from a psychological perspective. Being able to throw up a decent looking online store without knowing much html/CSS at all reduces uncertainty and postpones the hurdle of having to learn about programming.
Big Commerce for example offers an intuitive drag and drop interface where you can shuffle things around with your store at the click of a button. Big Commerce also offers a pretty good library of standard templates for you to start out with. All in all, I found that I could throw up a decent looking store within a matter of minutes without knowing a lick of HTML.
Their back end features and tracking are also top notch, but what's different now is that there's built in support for popular social media sites like Facebook. Again if you know the basics of web development, adding these things isn't a big deal but for a tech averse shop owner, it's pretty convenient.
You Don't Have To Be A Tech Expert To Start
If you have an ounce of tech in you or you are eager to learn about the web, then I still recommend hosting your own cart. Who knows? BigCommerce could go out of business someday and take your store down with it. They could also increase their fees once you are dependent on their services.
But for now, Big Commerce offers a heck of a deal to start a fully featured online store. If you want to avoid the technical aspects altogether and focus on selling, then going with either of these services is a no brainer.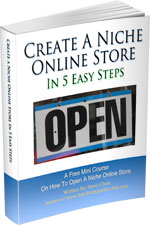 Ready To Get Serious About Starting An Online Business?
If you are really considering starting your own online business, then you have to check out my free mini course on How To Create A Niche Online Store In 5 Easy Steps.
In this 6 day mini course, I reveal the steps that my wife and I took to earn 100 thousand dollars in the span of just a year. Best of all, it's absolutely free!
Similar Posts
Have you read these?