If you take the time to sit back and reflect on all of the knowledge and experience you've gained throughout your life, you'll inevitably come to the conclusion that only a very small fraction of practical knowledge was actually learned in school.
Looking back, I used to think school was the be all and end all of education. Growing up, I took my classes very seriously and was encouraged(euphemism for forced) to get straight As. I was the epitome of a model student and studied hard to ace my way though high school and college.
But looking at my life today, what knowledge from school do I actually use on a day to day basis? Maybe 5%? Why are so many important and crucial subjects overlooked in school? Why do schools do so little to prepare us for the real world?
Unfortunately, I don't have the answers to these questions. What I do know though, is that I'm going make sure that I teach my daughter every thing that I know to help her get ahead.
Hopefully, I can fill in the numerous gaps in the existing system so that she's better prepared to deal with the people and obstacles that she will face. So what am I going to teach her?
Personal Finance
The first thing I'm going to ingrain into her head is the value of money (I would have said the dollar here but we all know it's not worth very much right now). It's absolutely astounding how many people I know that are just scraping by and living paycheck to paycheck.
It's understandable if you don't make that much money, but some of these people make over six figures and don't even save a dime. I have one friend who makes 90k a year, is living paycheck to paycheck and has a 30k credit card debt. How the hell did she get herself into that situation?
I believe that these consumption habits start at an early age. If we simply buy our children toys and gifts without letting them know what it takes to earn the money to pay for them, they will inevitably assume that money grows on trees.
I'm going to teach my child how to save money and to only spend it on items that she absolutely needs.
Hopefully, I'll have the willpower to say no even when she flashes her patented dimply smile at me. Though I have a high confidence that I can resist her charms, unfortunately her grandparents have this tendency to spoil her rotten.
If any parents reading this have any opinions on how to deal with grandparents, please lend me your suggestions.
Investing
When I think back about all of the money I could have made had I known about investing earlier, I'd easily be a millionaire today. The S&P has returned an average of 12% a year since I was born. Ever since I was in elementary school, I probably used to get around 1000 dollars a year in red envelopes and other cash gifts.
In high school, I also did a bunch of odd jobs during the summer for probably around 6k a year. Let's assume conservatively that in addition to my parents help, I could have saved and invested an average of $2000 a year from 1975 – 1997 and 15,000 a year from 1997-present (while working a steady job). Assuming a 12% rate of return, I'd have a little over a million dollars today.
It is estimated that tuition at a private college is going to be over 150k per year by the time my daughter reaches 18. If we don't start investing money now, there's absolutely no way we're going to be able to afford it.
Ideally, if I teach my daughter how to invest even small amounts of money at an early age, she should be financially ahead of the game even before she graduates from college.
Entrepreneurship
I don't want to make the mistake of overemphasizing getting good grades in school. While I definitely think school is important, I can't help but believe that school turns kids into obedient followers and not creative thinkers.
We are taught that if we follow directions and learn what the teacher tells us to learn that we should get rewarded with an A. What does an A really mean? Does it mean that we'll be successful in the real world in a particular subject?
Teaching and fostering entrepreneurship is the best way to instill responsibility, independence and creative thinking within your child. Sure your kid will probably fail a couple of times but they'll eventually persevere and pick up some practical knowledge along the way.
When I was in elementary school, I started and opened a school store selling school supplies. I didn't make a cent, but I provided a valuable service to the other students and learned a few skills on how to run a micro business.
Teaching entrepreneurship is the best way to apply the theoretical knowledge learned in school to real life applications. When I took econ and marketing classes in college, I didn't appreciate any of it until I had to apply it to our online store. Learning from a book is nice but learning from experience is infinitely more valuable.
How To Deal With People
It's pretty amazing to me that they don't offer a class on how to deal with people effectively. Learning how to deal with people is the most important skill for a person to have. Even if you aren't well educated or lack intelligence, you can still be very successful just by being able to influence other people.
Simple skills such as being a good listener, being able to build trust, and showing a genuine interest in other people's lives are traits that should not be overlooked. If you can instill some basic social skills into your child, they will be better prepared to deal with the variety of personalities that they will inevitably encounter.
How To Deal With The Opposite Sex
Last of all, I'm going to teach my little daughter that boys are yucky and that they are all scumbags. Proper daughters are not to date until they are 25 years of age and should listen to whatever their daddy has to say.
On a more serious note, I'm kind of resigned to the fact that my daughter will eventually start dating with or without my consent. The best way to prepare her for dating is to take her on dates myself. Once or twice a year, I plan on taking her out for night on the town and showing her how a gentleman is supposed to treat a lady.
Hopefully, she'll come to expect this sort of royal treatment whenever she goes out with a boy and will never settle for anything less.
Are there any subjects that you want covered in school that I missed here? Please lend me your thoughts. Also, don't miss the follow up response to this article here.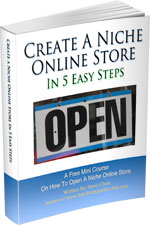 Ready To Get Serious About Starting An Online Business?
If you are really considering starting your own online business, then you have to check out my free mini course on How To Create A Niche Online Store In 5 Easy Steps.
In this 6 day mini course, I reveal the steps that my wife and I took to earn 100 thousand dollars in the span of just a year. Best of all, it's absolutely free!
Note: This post above may contain affiliate links, which means that I may receive a commission if you make a purchase when clicking a link. Please consult our privacy policy for more information.
Similar Posts
Have you read these?