After starting several businesses on the side, helping others with their own online stores and running this blog for a couple of years now, I've come to recognize certain patterns and character traits that define success and failure.
Running a successful business isn't just about luck. It's not just about taking the leap of faith. It's not about having the perfect plan or finding the perfect niche.
It's about how you deal with problems as they arise. It's about how you adapt to certain situations when things don't go your way.
The problem most new entrepreneurs face is that it's hard to distinguish between good and bad investments of your time. It's difficult to know when to go cheap and when to splurge.
And for control freaks like myself, it's overwhelming when you first realize that there are a bunch of problems you can't fix on your own.
For me, nothing went as planned for any of my online ventures yet they all eventually turned out to be quite profitable.
Even though I don't consider myself an uber entrepreneur trying to start the next big company, I've come to realize that there are certain attributes and traits that can greatly increase your chances for business success at any level.
Here's what I've learned over the years running my various businesses.
Go In With An Open Mind
Probably the most important thing I've learned is to not rule out any strategy or plan of action no matter how you feel about it. Ultimately, your success is determined by what works and not your personal biases.
I've helped many people with their online stores over the years and the ones who have failed to gain any traction with their businesses have been the ones who weren't willing to try new things or invest additional money into making necessary improvements.
Change is tough. I get it. But if you don't change and adapt, you're going to be overtaken.
For example, I had one reader email me wondering why their site wasn't making any sales. And since I wanted to help, I wrote up a long email detailing what needed to change about his website in order for him to even have a chance for success.
And even though I offered very detailed advice, the reader didn't listen to a word I said. What's worse is that he became extremely defensive and started attacking my suggestions! Just before writing this article, I went to check out his store and he still has the same crappy website up even though it's been over a year since we spoke.
Don't Be Cheap
Maybe it's because I was brought up this way, but I'm pretty damn cheap. In general, I'm reluctant to buy or to sign up for anything that requires me to spend my hard earned cash especially if it's for something that I can make or do myself.
Specifically, I detest paying for services that require a monthly subscription fee. So whenever there's a tool or a piece of software that is supposed to increase my business productivity, I either rationalize to myself why it's a waste of money or I try to write the same piece of software by myself.
In fact, I would still be the same cheap bastard today if it weren't for Aweber.
For all of you that don't know what Aweber is, it's an email marketing service. When I first heard of Aweber, I could not understand why anyone would pay someone else to send email.
After all, email is free and you can send as much as you want from your server without paying a dime. So, I tried to write my own email marketing software from scratch.
And guess what happened? All of the email coming from my crappy email program either got blocked or sent to spam no matter who I sent it to.
Managing email campaigns became a nightmare. After keeping my mail program on life support for several months, I decided to sign up for an email marketing service and tried MailChimp.
Why? Because MailChimp was FREE for the first 2000 subscribers. Starting to see a pattern here?
After a while, I realized that Mailchimp wasn't going to cut it for me either (You can read my full review of MailChimp Vs Aweber here), so I decided to shell out a whole dollar to try out Aweber.
Man! What a difference it was. Customers actually were able to receive the emails I was sending. And there were a ton of features that would've taken me months to implement and test.
In any case, signing up for Aweber opened my eyes and I realized that I shouldn't be wasting time trying to reinvent the wheel.
Be Ready To Adapt Because Your Initial Plans Will Fail
When my wife and I first launched our online store, I had an elaborate plan to get customers in the door that I thought was foolproof! In fact, most of our early revenue assumptions hinged on this one strategy.
The plan was to launch a bunch of Ebay auctions with our products, include a link to our online store in the item description and offer a discount if the purchase was made outside of Ebay.
That way, customers would shop at our online store directly and we could avoid Ebay's ridiculous transaction fees. Little did I know that this was against Ebay's policies.
After almost getting our Ebay account banned, we frantically scrambled to come up with other traffic generation strategies. In fact, most of our initial customer acquisition plans failed and we had to start from scratch at least 2 or 3 times.
I had a similar experience when I first launched MyWifeQuitHerJob.com. I had an elaborate strategy to get traffic from social media sites such as Digg, StumbleUpon, Reddit etc…
The master plan was to make as many friends as possible on Facebook and leverage these friends to help me vote my articles up.
Ultimately, this plan failed for 2 reasons. One, none of my friends knew what social media was and didn't want to sign up a for a service they weren't going to use.
Two, nobody was willing to vote up my articles on a regular basis. In the end, I had to do a complete 180 and build up this blog the old fashioned way. I had to write good content, reach out to other bloggers and ingratiate myself within the blogging community.
Follow Through And Give It Time
Even though my wife and I managed to make 6 figures with our store in the span of a year, we almost called it quits after the first month or so.
Sales were only coming in at a small trickle and we didn't want to invest a lot of time into a business idea that couldn't make a "full time income". But I'm glad we stuck with it because business didn't start growing exponentially until about the 6 month mark.
Same story with this blog. Traffic didn't start picking up until well over the one year mark had passed. For a while, I wondered if anyone out there was reading my stuff at all. The point is that you need to be committed to whatever business you decide to pursue.
Make sure you pick a business that you can or are willing to maintain for a very long time. Either make a long term commitment or don't even bother trying.
The fact is that most people give up on their idea long before it has a chance to blossom. To a certain extent, the point at which your business will skyrocket is somewhat dependent on luck.
Sometimes you just have to stick around long enough to cash in. For example, our online store got a huge boost when we were featured in Real Simple magazine. Randomly, someone over there contacted us asking to feature a few of our items and we happily obliged.
Had we closed up shop early, we would have completely missed out on this free marketing opportunity.
Don't Be Stagnant
Bottom line, the secret to success is to constantly try new things and to avoid becoming stagnant. What I love about entrepreneurship and business is that the landscape is constantly changing. You have to try hard and keep up otherwise someone else will overtake you.
So whatever you do, don't coddle yourself. If s$%@ ain't happening, don't rationalize it. If things aren't working out now, they aren't going to magically get better without your intervention. The willingness to change makes all the difference.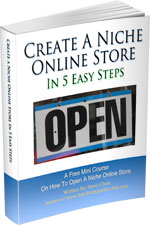 Ready To Get Serious About Starting An Online Business?
If you are really considering starting your own online business, then you have to check out my free mini course on How To Create A Niche Online Store In 5 Easy Steps.
In this 6 day mini course, I reveal the steps that my wife and I took to earn 100 thousand dollars in the span of just a year. Best of all, it's absolutely free!
Similar Posts
Have you read these?