When I first saw the title of Adam's new book, I thought to myself…"Why would I possibly want to unautomate my finances?" If I'm getting by with the status quo, why would I ever need to change things up?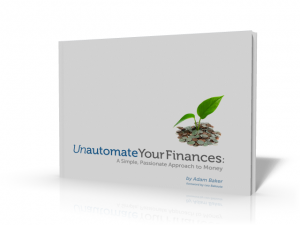 The truth is that there are a lot of us who are just coasting through our financial lives and living from paycheck to paycheck. And because we still manage to get by, we tend to ignore all of the little things that negatively affect our financial livelihood in the long term.

In his book, Adam provides concrete steps and tutorials on how to "unautomate your finances". In other words, he teaches us how to re-sensitize our financial lives, to start saving and to stop getting by with excessive debt.
Who Is Adam Baker and Why Should I Listen To Him?
For all of you who don't know Adam, he runs the popular blog Man Vs Debt. If you have never ever visited his blog before, I highly recommend that you go over and check it out. He's an excellent writer and his blog posts are both inspiring and fun to read. If you do check out his blog, I would definitely start with one of my favorite articles of his Tyler Durden's Guide To Personal Finance.

Now Adam's story is pretty unique. He and his wife just "got by" for many years. They managed to pay their bills on time and never saved much money at all. But as time went on, their expenses kept piling on and they soon found it increasingly hard to juggle all of their payments. In a short period, they managed to accumulate a mound full of debt ($80,000 to be exact and that didn't even include the mortgage on his house!).

However instead of continuing down the path to debt hell, Adam decided to make a drastic change to his lifestyle. He found that by simplifying his life and by consciously focusing on his finances, he could take control of his financial life. In just one short year, he has managed to eliminate a good chunk of his debt and now also has a fairly sizable nest egg as well! His story is truly inspiring and he shares the exact steps that he took to take charge of his finances in his book.
What Do I Think?
All I can say is that this book is Adam Baker at his best. Even though I'm not in debt and have a pretty good fix on my finances, I read his book cover to cover in a single sitting because I like his writing style. Even though he and I differ in our philosophies on credit cards and how to track financial data, his advice is fundamentally sound.

The type of individual most likely to benefit from his book is someone in debt. Someone who is living paycheck to paycheck and not saving any money. For people who already have a firm grasp on their finances, the book is less useful from a practical perspective but there are a few cool extras that he is throwing in. Here are some things the book comes with.
A 27 minute interview with Leo Babauta (ZenHabits) (Leo also wrote the foreword)
An audio interview with J.D. Roth of Getrichslowly.org
2-page printable PDF budgeting template
Minimalist excel template of same budget
Where To Buy
If all of this sounds interesting to you, Adam is selling his book for $17 here. This is not an affiliate link. In fact, MyWifeQuitHerJob.com has no affiliation with ManVsDebt or Adam Baker in any way. Hope you enjoyed the review.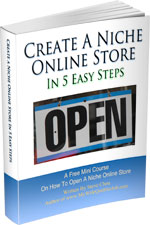 Ready To Get Serious About Starting An Online Business?
If you are really considering starting your own online business, then you have to check out my free mini course on How To Create A Niche Online Store In 5 Easy Steps.
In this 6 day mini course, I reveal the steps that my wife and I took to earn 100 thousand dollars in the span of just a year. Best of all, it's absolutely free!
Similar Posts
Have you read these?