Unless you are selling products that you invented yourself, chances are that you'll have direct competitors in your space. If you don't think you have any, then chances are your market is so small that you're probably not seeing much demand for your products anyways.
It's important to keep track of your competition on a regular basis to see how your store sizes up. It's also important to check the web periodically to see if new competitors have popped up. With our store, we perform thorough web searches on our key product lines at least once a quarter.
Since businesses are living entities, you'll find that your competitors are constantly evolving. If you're not making adjustments as well, a small shift in the market could put your store out of business. We look for very specific things when analyzing our competitors as outlined below.
New Products
The items that we carry in our store tend to be very trendy. As a result, we have to be on the constant look out for hot new products. Since we are not a large store and we don't have the same resources as other juggernauts in our space, we try and use our competitors to detect trends in the market.
For example, we noticed that this particular wedding favor was extremely popular in the wedding community. Despite its popularity, the favor itself was extremely expensive, so we immediately figured out how to make it using our products and put up instructions on how to do so. If you bought the raw materials from our store, you could save 75% if you made them yourselves.
We also look for new products that our competitors carry that we think we should carry as well. Often times, we'll try and add some value to these products to differentiate ourselves from the competition.
Pricing Trends
Stores are constantly updating their prices. If you're not careful, you might be either underselling or overselling yourself. The tendency of new store owners is to under price their products too much.
By the time you account for packaging materials, overhead, fuel costs and shipping, you'll find that your margins need to be much higher to run a sustainable business. On the flip side, setting prices too high will price you out of the market altogether.
Doing competitive research will also allow you determine how sensitive your market is to price which can vary widely with different markets. For example, with technology, you'll find that your customers are extremely price conscious.
If you are selling baby products, however, price doesn't matter as much. In any case, use your competitors to make sure that your pricing makes sense.
Gaps in Product Lines
We also look at our competition to see if there are any gaps in their product lines. The best small businesses focus their energies on only a few product lines and topics. By taking a higher level view of the market, you can often find gaps and niches that your store can expand into.
For example, our competitive analysis brought to our attention that most stores in our market were not offering personalization on their products. Therefore, we made it a point to offer this feature to differentiate ourselves even though it was a major pain to implement.
Website Features
Since technology evolves so quickly, we are always on the lookout for new website features and new uses of web technology.
Large stores that have the resources to invest in new web technology are often the first stores to implement new features. Its very important to update your site on a regular basis so that it doesn't look antiquated compared to your competitors.
Marketing
One of the most important things we look for is how our competitors are marketing themselves. Are they using adwords? Are they placing advertisements in magazines? Are they publishing articles in electronic publications?
Are they listing themselves in specialty directories? Over time, you will be able to tell which marketing methods work or don't work in your target market based on what your larger competitors are using.
For our store, we discovered many new marketing outlets by analyzing what our competitors used. Many of these avenues turned out to be free as well!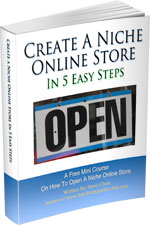 Ready To Get Serious About Starting An Online Business?
If you are really considering starting your own online business, then you have to check out my free mini course on How To Create A Niche Online Store In 5 Easy Steps.
In this 6 day mini course, I reveal the steps that my wife and I took to earn 100 thousand dollars in the span of just a year. Best of all, it's absolutely free!
Similar Posts
Have you read these?