Lately, I've been receiving a number of emails from readers asking for the easiest and fastest way to open up a cookie cutter online store.
I've also been asked to critique several newly launched online store websites and unfortunately, I've noticed a disturbing trend. People have this tendency to do the least amount of work possible while expecting the largest possible payoff. Lesson #1, doing little work for a large payout just doesn't happen very often in this world.
First off, I hate it when people ask for a "cookie cutter" solution because it implies that the design is exactly the same as someone else's and there is no originality involved.
Some of the stores that I looked at didn't even bother to change their look from the standard website template. So I wasn't surprised at all when I heard that these stores had not yet made a sale.
The advantage of having access to free open source shopping cart solutions is that almost anyone can throw up an online store in a short amount of time for absolutely no cost.
There is little or no coding involved and you can have a fully featured store right out of the box. The disadvantage is that anyone can do it. The barriers to entry are extremely low.
When everyone and their mother can open an online store with similar functionality, you need to put in some extra work to make sure that it's hard for others to enter your target market. You need to make your store stand out and I'll describe how below.
Add Your Own Expertise
Most people just throw up a store, add products and pray. If you are selling products wholesale that many other people are selling as well, do NOT copy the same product descriptions that are provided from the manufacturer.
Chances are that someone is using these descriptions already and this will negatively affect your search engine rankings because of duplicate content.
Once you have written original product descriptions for every product that you are selling, don't stop there. Continue to add additional content that may help the customer.
Give product away to your friends and acquaintances and have them write an honest review. Add product tutorials to your website. Demonstrate your product in action. The more content you create, the better. Eventually, these efforts will serve three purposes.
Your content will get indexed in the search engines which will increase your chances of getting organic search traffic.
Your customers will find your content useful and will be more likely to make a purchase once they find your site.
You can promote your content pages on various social media outlets without it coming across as spam.
Sell Difficult To Find Products
It continues to amaze me how many people are reluctant to import their items from a different country. Sure, it's a major pain in the butt, but the upshot is that you'll be selling products that very few other people will be selling!

Think about it this way. If you feel more comfortable selling products from wholesalers within your own locality, then chances are other people feel the same way. Do you want to be like everyone else? The key is to change your mindset.
Instead of looking at importing goods as a major hassle, you should view it as a competitive advantage. Once you have your processes and vendors in place, very few other people can replicate your efforts. Have an open mind and take the road less traveled.
Add Value To Your Offerings
Anyone can contact a wholesaler and simply sell their products out of the box. Instead of selling products directly as is(which is the easy way to go), consider adding additional services on top that may add value to the product.
For example, our online wedding linens store offers embroidery and personalization services at an additional cost. Even if other stores offer our exact same products, people who want an extra special touch will buy from us.
Purchasing or leasing the machinery and gaining the skills required to perform these services is fairly high which prevents other people from doing the same thing.
If you have special skills or artistic talent, take advantage of it and let your talents shine through your products. People will definitely take notice.
Reach Out To Your Customers
Once you've made a sale to a customer, don't stop there. Make sure that you keep open lines of communication with your customers so that they'll come back again or refer their friends.
With our store, I used to hate taking customer calls and inquiries. But after a while, I began to realize that taking these phone calls was the best way to show off our excellent customer service.
It's rare to be able to get ahold of a customer who is actually willing to talk to you and provide feedback. Find ways to continue the relationship either through email or newsletters and you'll slowly establish a loyal customer base.
Once this loyalty has been established, no other competitor can take these customers away from you even if they sell identical product.
High Barriers To Entry Is Good
One of the most important things to remember with any business venture is that you want to offer goods and services that are hard to replicate.
So don't always take the easy way out or the path of least resistance. If something is extremely hard for you to implement, then it will be difficult to implement for your competition as well.
Sometimes the path of greatest pain is the correct one. Have faith that your hard work will pay off and don't be lazy or afraid of the consequences.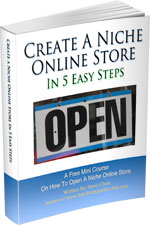 Ready To Get Serious About Starting An Online Business?
If you are really considering starting your own online business, then you have to check out my free mini course on How To Create A Niche Online Store In 5 Easy Steps.
In this 6 day mini course, I reveal the steps that my wife and I took to earn 100 thousand dollars in the span of just a year. Best of all, it's absolutely free!
Note: This post above may contain affiliate links, which means that I may receive a commission if you make a purchase when clicking a link. Please consult our privacy policy for more information.
Similar Posts
Have you read these?