Those of you who have followed my blog since the beginning know that I've always been torn whether to recommend Shopify to new ecommerce business owners. In general, I'm against any shopping cart that charges a transaction fee as a percentage of your revenue.

I also dislike any cart that nickel and dimes you with fees for small features that should already be included out of the box.
But despite the fact that Shopify used to possess both of these characteristics, I still recommended them to a very small subset of my readers.
Why? It's because I consider Shopify to be the most intuitive and easiest to use fully hosted cart out there and they offer the best looking templates as well. In fact, if they didn't charge transaction fees, I'd recommended them in a heartbeat.
Well that day has finally come. Recently, Shopify has made a few huge updates that I'm confident will send shockwaves throughout the fully hosted shopping cart industry.
Shopify No Longer Charges Transaction Fees

Yes. You read that correctly. Shopify no longer charges any transaction fees for purchases using their payment gateway.
That means that you can have the best of both worlds, a robust and easy to use shopping cart that you can implement without sacrificing a percentage of your sales.
You'll receive unlimited bandwidth and access to their awesome library of attractive templates for just one flat monthly rate with no variable transaction fees.
Note: Shopify's new pricing scheme is very similar to what Big Commerce and Volusion charge and they have made these changes to increase their competitiveness in the market place.
Today, if you are looking for an easy-to-use platform to start an online store and you are not very tech savvy, then Shopify's latest changes have almost made your decision a no brainer.
If you want to be able to design a great looking online store without needing a web designer, then Shopify is for you.
The elimination of transaction fees was pretty much the last thing that was stopping me from recommending them for new shop owners and now that they've removed this restriction, I have no more qualms.
Shopify Allows You To Accept Credit Cards Without Paying A Monthly Fee
In addition to eliminating transaction fees, Shopify also made another huge announcement as well. They now also offer a free credit card payment gateway that does not incur a monthly charge.
This is pretty huge for several reasons. For one thing, shop owners no longer have to sign up and pay a $30 monthly fee for a separate payment gateway. As soon as you signup for Shopify, you are instantly approved to accept all major credit cards as part of your flat monthly fee.
This means that you can literally setup shop and start selling right away without any delays. Imagine being able to throw up an online store in a matter of days without having to worry about integrating several different pieces together. It's pretty sweet!
Shopify has effectively transformed themselves into a one stop shop for ecommerce with all of your payment logistics nicely integrated into a single interface.
There's no need to worry about getting approved to accept credit cards. There's no need to worry about PCI compliance. Plus, they'll setup your SSL certificate for free as well.
What About The Rates?
My first thought when I read their announcement was that there must be some catch. After all, removing transaction fees and offering credit card processing without monthly fees has to put a dent on their revenues.
So I immediately looked into what they are charging for their credit card transactions. For the starter and basic plans, Shopify charges $.30 per transaction and 2.9% of your revenues. This isn't the greatest rate in the world but it is on par with what PayPal charges until you hit the $5000 a month threshold.
For the more expensive Shopify plans, the rate gets reduced to 2.5% for professional and 2.25% for the unlimited plan. Again, these aren't the best rates in the world but they are also on par with what Paypal offers at higher transaction volumes.
So what's my assessment? Early on, it's nice to not have to pay any monthly fees to process credit cards and to keep your expenses to a minimum. But in the long run when your store gets bigger, you'll end up paying more for credit card processing than if you shopped around for a 3rd party solution.
Unfortunately if you do not use Shopify's payment gateway, then you will be stuck paying their old transaction fees. But this is a reasonable tradeoff to make early on in my opinion.
What About The Features?
Unfortunately, the depth of shopping cart features out of the box still remains Shopify's biggest weakness. Compared to their counterparts Big Commerce and Volusion, Shopify does not offer the same level of functionality without having to purchase additional addons.
However with their latest release, they did finally include some much needed features to their out of the box package. For one thing, they finally added an abandoned checkout recovery feature.
And finally, they added the much needed ability to change SEO title tags and meta descriptions in the backend without resorting to a 3rd party plugin.
So while Shopify is still behind in the features department, they more than make up for it with their superior design tools and themes.
After running my online store course for a while now, ease of design matters and it's nice to be able to create a good looking website without having to hire a designer.
Conclusion
Overall, the latest Shopify changes make it more compelling than ever. For a flat monthly fee, you can have superior design tools, free SSL, and free credit card processing all in a one stop shop.
In fact, I think that these new pricing adjustments will send ripples throughout the entire industry because it makes Shopify extremely appealing across all but the most advanced market segments.
Again, their only weakness is with their out of the box feature set. But for small to medium shops, signing up with Shopify is very compelling.
Given the new disparity in the marketplace, I'm curious to see how the other shopping carts will respond to Shopify's changes. As the landscape becomes more competitive, you as a shopowner will continue to benefit.
Note: MyWifeQuitHerJob.com readers are eligible to receive special discounts with Shopify. Please sign up for my 6 day mini course and newsletter for more information.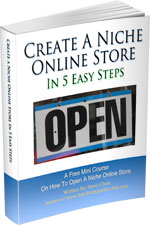 Ready To Get Serious About Starting An Online Business?
If you are really considering starting your own online business, then you have to check out my free mini course on How To Create A Niche Online Store In 5 Easy Steps.
In this 6 day mini course, I reveal the steps that my wife and I took to earn 100 thousand dollars in the span of just a year. Best of all, it's absolutely free!
Note: This post above may contain affiliate links, which means that I may receive a commission if you make a purchase when clicking a link. Please consult our privacy policy for more information.
Similar Posts
Have you read these?