Based on several emails that I've been receiving lately, it seems that a few of you are hesitant to start a business because you're hung up or stuck on selecting a business idea to pursue. And the number one concern seems to be whether there is enough demand or too much competition in your niche to succeed.
I received an excellent email in my inbox a few weeks ago that pretty much summarizes where a lot of people are getting stuck so I've decided to dedicate a blog entry to the topic.
I just came across your site and it seems like an awesome resource. I have a question for you, that might make a nice blog post. I did a search of your site, but could not find the answer to my question, so here it is:

My wife has an idea for an ecommerce store. It seems to us that she's found a pretty good niche. The niche seems to be emerging and trendy, but not a fad.

It seems to me that there are two aspects to identifying a profitable opportunity: market demand and market competition.

In order to assess demand, I've looked at the google keyword tool and there does seem to be plenty of searches. Are there any other good ways of determining market demand for an ecommerce store?

In order to assess competition, we've been googling to find competitors and there are a bunch. Then I've been using alexa/compete.com (flawed, I know) to see what kind of traffic these sites get. It appears that with a few notable exceptions, most of our competitors do pretty low traffic.

Of course, I'm under no illusions that we've found all of our competitors either. I would also note that the google keyword tool indicates a high level of competition for most of the keyword terms.

Does you have any other suggestions for determining the level of competition?

The third remaining problem, is that I don't know how to compare the market demand to the market competition. We're just not sure if the demand / competition ratio is high enough to pursue this further. I just can't think of a good quantitative way of measuring the demand / competition ratio.

Any tips on analyzing market demand / market competition ratio for an ecommerce store?

I guess it all boils down to: We believe there to be significant demand, how do we know whether or not there is TOO much competition to be successful? (we would define success in this venture as allowing her to quit her job, like your wife!)

Eric
Before jumping into anything, it is indeed extremely important to estimate the supply and demand for the niche that you are selling into. Here are some of the ways that my wife and I assessed the strength of our business idea before we got started.
We Used Keyword Analysis
Eric mentioned using keyword analysis as one of the ways he checked on the demand for his idea. With keyword data and the number of searches performed per month, you can also make some decent back of the envelope calculations to see if your niche is large enough for you to make a decent living.
For example based on your idea, you should be able to easily determine what your approximate profit per sale is by looking at your competitors' prices and your wholesale cost. Then, by making a conservative estimate of your click through rate and conversion rate, you can obtain a range of profit numbers for your business idea.
In fact, I go through this analysis in more depth in my article on How To Determine If Your Business Is Viable. While these calculations are crude, it is a good way to eliminate poor ideas with little demand right off the bat.
We Used Ebay
While Ebay is a horrible place to host your full blown business, it is very useful for determining demand and pricing for your products.
Look for similar products in your niche and take a quick glance at the completed listings for relevant auctions. Based on the ratio of completed auctions and the ending price, would this be enough profit for your business to survive?
If you there are very few completed listings available, throw up a few auctions of your own and see how much people are willing to pay. As you are performing your experiments, it's important to keep a few things open in the back of your mind.
One, Ebay items tend to sell for much cheaper than normal online shops. This is because the majority of Ebay shoppers are looking for bargains and the seller's brand is much less of a factor. Just to give you an idea, similar products to some of the ones we carry can be found on Ebay for up 20% less.
However, the quality is hit or miss and most of our larger customers prefer dealing with an actual company as opposed to individual Ebay sellers.
Two, the item you are trying to sell may not be a good fit for Ebay. If you are selling unique hand crafted products or something with a completely new concept, it might be hard for shoppers on Ebay to find your stuff.
The main reason is that shoppers on Ebay do searches for products rather than searches for solutions like people do on Google. In any case, if you are seeing a good amount of completed auctions, that's a pretty good sign that the demand is there.
We Used The Forums
The forums are especially helpful for coming up with ideas for products to sell and for getting an idea of what people are looking for. Simply go to a popular forum in your niche and do a search for any of the following terms.
"trying to find"
"advice about"
"I hate it when"
"I need help with"
"I'm looking for"
"can't find"
"have no clue"
"question about"
Obviously, there are other terms you can search for but you get the idea. People use the forums to ask questions and based on these questions you can come up with solutions to sell for their problems. If you already have a product idea, do a search. Are people looking for or talking about it?
The forums are extremely powerful. Early on with our wedding linens store, we used The Knot and The Wedding Channel forums to communicate with would be brides about what products to populate our store with. People on the forums are very responsive, especially if they believe you can help them out.
We Used Adwords
These days, throwing up a store is quick and easy, so why not just put something up and drive some targeted traffic to it as a test? In the beginning, it's not about making a profit. Go to a store and buy the product if you have to and then see if you can sell it.
Adwords is extremely powerful in this respect because you have full control over what types of traffic you want to drive based on your keywords and your ad copy. Starting an online store is not risky from a monetary standpoint, so it's in your best interests to stop guessing and get some real hard data to work with.
After all, you can speculate all you want and analyze your competitors to death but you'll never truly be able to tell until you try….which brings me to the last and most important thing I have to say.
Don't Worry About The Competition Too Much
If I were to do it all again, I would care less about the amount of competition as opposed to the quality of the competition. If you have a unique spin on the products you want to sell and you are confident that you can stand out among your competitors, then go for it!
If you find that your store is getting lost in the crowd, pick a narrower niche to pursue and specialize! When my wife and I first started out, we were considering selling generic wedding favors.
But the main problem was that there 4 or 5 huge players already in the market. As a result, we decided to go much more narrow and focus on wedding handkerchiefs. The end result was that we were able to rank much higher in search than our competition because our website was so targeted to a single topic. It's counter intuitive, but focusing on selling less variety is to your advantage.
Once you've found your niche, find out who your top competitors are for your keywords and then do a search for all of their backlinks. Basically, you are trying to determine what it takes to become #1 in Google for your products.
Because the number of backlinks largely determines your search ranking, you can assess how much work you are going to need to do to overtake your competitors. Again, if your keywords are too competitive, you may want to consider focusing your business more.
Conclusion
The key thing to realize is that opening an online store is not like opening a brick and mortar store. And sometimes it takes more work and time to do analysis and speculation than it does to actually throw your store up.
Of course you have to do some amount of due diligence, but if you truly believe that you are unique and can stand out among the crowd, then I say pull the trigger! What's the worse that could happen?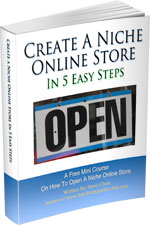 Ready To Get Serious About Starting An Online Business?
If you are really considering starting your own online business, then you have to check out my free mini course on How To Create A Niche Online Store In 5 Easy Steps.
In this 6 day mini course, I reveal the steps that my wife and I took to earn 100 thousand dollars in the span of just a year. Best of all, it's absolutely free!
Note: This post above may contain affiliate links, which means that I may receive a commission if you make a purchase when clicking a link. Please consult our privacy policy for more information.
Similar Posts
Have you read these?