Before I tell you about my love hate relationship with marketing, I thought that I'd give you a little background about what I do. When I'm not blogging or helping my wife run our online store, I run a small electrical engineering team for a startup company in silicon valley.
Most of my day consists of managing a small team, sitting behind a computer doing designs, architecting features to go into the next version of the product, giving presentations and going to meetings.
My primary focus at work is to put out the best product possible for our company but I'm never directly involved in selling it. In other words, I don't do a lick of marketing at my day job.
Prior to starting my own business, I used to believe that putting out extraordinary products was the key to success in business. I used to believe that if you focused your efforts solely on development and put something great out there, then you could easily dominate any market niche.
From my perspective, marketers were extraneous resources that lied, cheated and exaggerated their way into making sales to make up for an inferior product. Pretty harsh I know.
In fact, among the engineering group within our company there's always been a general distrust for marketing folks in general. After all, many of our competitors routinely put out unrealistic data, exaggerated performance numbers and lots of FUD to sway customers their way.
But all of these beliefs came crashing down when my wife and I started our OWN business. We initially began with the goal of putting out great products and creating an aesthetically pleasing and easy to use website. And we succeeded.
We had one of the best looking websites, and we offered great products too. But the day we launched, there were only crickets. The customers were missing!
The Realization
It was only then did I realize that I had to become something/someone who I absolutely used to detest in the past. I couldn't hide behind my computer or the close confines of my desk anymore.
I had to get out there and get the word out. I had to go out and sell my company and pitch my products. I had to **shudder** communicate with real people. I had to become a marketer! (That word still gives me the shivers).
I used to think that I was the only one who made this mistake. But after running this blog for a few years now and helping would-be business owners launch their online stores, I've come to realize that many new entrepreneurs don't realize that even though you might sell products, the true focus of your efforts will be on marketing once you launch your store.
The Hard Problems
These days, all of our most interesting problems are in the sales and marketing segment. After all, we already have a pretty good flow in place in terms of shipping and delivering product. We have good employees that are efficient at what they do.
We have contractors in place to handle larger orders that we can't fulfill ourselves. We have several overlapping vendors who we source all of our products from in Asia. All in all, we are in pretty good shape in terms of the day to day.
But most of what we have accomplished in this area has largely been a matter of logistics. There's been nothing terribly frightening about getting these things done as long as we did our research and planned accordingly.
They key question that we continue to face about our business is how we are going to continue to grow. How are we going to spread the word about our business? How are we going to expand?
While we have experienced double and triple digit growth for the past 3 years, how is that going to continue? Sales and marketing is where most of the unknown lies.
And to an engineer who sits behind a desk most of the day or to anyone that doesn't do it for living, this can be terrifying. Are you as scared as I am about marketing?
Marketing Isn't So Bad
The good news is that marketing no longer requires a large budget and isn't nearly as terrifying any more thanks to the world wide web. Because of the web, there are many cheap and easy ways to get the word out about your business without spending a dime.
Because of the web, you don't have to resort to using traditional media or expensive advertising campaigns. Because of the web, you don't have sacrifice an arm and a leg to increase sales, you just have to show your personality and be open and honest about your business.
Because of social media and lightning fast communication mediums like Facebook and Twitter, businesses now have to be held accountable for all of their actions which makes it that much more comfortable for a straight laced engineer like myself to promote a business.
Not only that, but connecting with the customer directly is now easier than ever thanks to the advent of blogging, Twitter, email and the forums within your niche.
Show Your Personality
Instead of hunkering down behind a computer all day and slaving away over the logistics of running your business, make sure you take a moment to exercise your creative side.
Write a blog post about something interesting within your niche. Be transparent and allow the public to see the inner side of your business. Let the customer know that you are a human instead of just another web company. Don't sell, show them who you are instead.
The more you humanize your business, the more people will talk about you and the more they will be comfortable buying from you. Exercise your creative side on a regular basis by
Running a blog about your business. Don't use your blog to sell but to educate
Creating videos. Let the customer know who they are dealing with by placing a face to your business.
Giving out free and useful information. Create trust among your customers and establish yourself as an authority within your niche.
Marketing doesn't have to be scary and it doesn't have to be sleazy or salesy. But it definitely is a necessity for any small business.
Take it from a monitor staring, semi-introverted, anti-marketing, anti-BS engineer like myself. Good product is not enough to generate sales. The day you launch your business is the day you become a marketer whether you like it or not.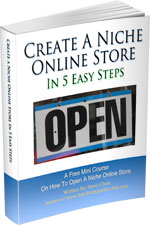 Ready To Get Serious About Starting An Online Business?
If you are really considering starting your own online business, then you have to check out my free mini course on How To Create A Niche Online Store In 5 Easy Steps.
In this 6 day mini course, I reveal the steps that my wife and I took to earn 100 thousand dollars in the span of just a year. Best of all, it's absolutely free!
Similar Posts
Have you read these?