Happy new year everyone! As you probably may have noticed, things have been a bit quiet lately here at MyWifeQuitHerJob.com. For the past two and a half weeks, I've been on vacation with my family visiting relatives down in Southern California and just got back a few days ago.
My original intention was to make it a "computerless" vacation and though I didn't quite succeed at avoiding my computer, it was quite nice to just relax with friends and family.
The problem with coming back home is that you have to face reality once again. But we are extremely excited for what is in store for us in 2009. Here's a list of things that my family and I hope to accomplish this year with both our business and family life.
We Want To Transform Our Business Into A Real Business
What do I mean by a "real" business? Currently, my wife and I don't consider our store a true business yet because it relies almost entirely on ourselves to run. When we go on vacation, our business ceases to function.
When we travel, we have to close up shop. This past December, we had to close our store for the latter half of December in order to travel down south and probably gave up about 8k worth of revenue.
What this means is that we have to hire more outside help and consider outsourcing. Currently, we have a few people we pay hourly working for us, but we need to find someone who can help manage the entire operation.
By transforming our business into a living entity, our goal is to have more freedom and more time to expand the business.
We Want To Have More Family Time
Running a business and raising a child is not easy. On several occasions, my wife and I have had various "business" issues interrupt our family time. While this doesn't happen very often, I would like to minimize these situations as much as possible.
We need to remember that the purpose of our business is to allow us to spend more time together and not to have the business consume our lives.
We Want To Spend More Time With Our Friends
We didn't see our friends very much last year at all. Part of the reason was that our newborn child required extra special attention. The other reason was that we were still cultivating and refining our business.
Now that my daughter is almost a year old and our business is more established, we plan on focusing more on our friendships this year.
We Need To Find More Reliable Vendors
One of the downsides to our current business model is that we are highly reliant on only a few vendors. Having only 2 or 3 suppliers greatly limits our bargaining power and makes our business somewhat fragile.
If any of our vendors were to just disappear, our business would be in a lot of trouble.
Especially when dealing with overseas vendors, it is absolutely critical to establish a good business relationship with all of your suppliers. In the past, we learned the hard way that contracts are worthless and that a proper relationship is the only way to do business successfully.
Of course, it takes a lot of time and energy to establish good relations with new vendors, so my wife and I plan on making a trip out to Asia again to make new contacts this year. We'll be traveling with a little one this time and we hope that it won't be too much of a problem bringing her along.
We Need To Streamline The Business
Even though we did a fantastic job of increasing the efficiency of our business last year, we still have many problems left to tackle. For example, our inventory management is a disaster at the moment.
This year, we hope to implement much tighter inventory controls through the use of a bar code scanner and a more tightly coupled product tracking system. We also need to increase the speed and efficiency of our order fulfillment process as well.
We Need To Enjoy Ourselves More
Most importantly, we need to find the right balance between our business and family life. My wife and I need to lighten up and not let little things bother us. We need to learn to let things go and be willing to take a few losses when transactions go awry.
My wife and I have high hopes for this coming year which I'll document in this blog as the year goes along. I just want to thank all of you for sticking around and following our story.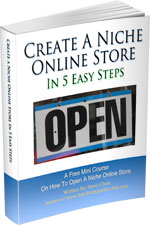 Ready To Get Serious About Starting An Online Business?
If you are really considering starting your own online business, then you have to check out my free mini course on How To Create A Niche Online Store In 5 Easy Steps.
In this 6 day mini course, I reveal the steps that my wife and I took to earn 100 thousand dollars in the span of just a year. Best of all, it's absolutely free!
Note: This post above may contain affiliate links, which means that I may receive a commission if you make a purchase when clicking a link. Please consult our privacy policy for more information.
Similar Posts
Have you read these?