Many people who open an online store naturally assume that drop shipping their items is the best way to go. After all, you don't have to deal with the hassle of carrying inventory and the product companies themselves are responsible for getting your orders to their end destination.
While drop shipping, when employed successfully, can result in a low effort, low risk business model, many online businesses fail to consider the following disadvantages.
Customer Support
Because the delivery of your product is out of your hands, you may run into customer support issues when your customer does not receive their item on time. When you stock your own items, you can always make sure that your products will be delivered in a timely manner.
When you drop ship, handling customer returns can be a huge hassle as well. Even though your customers are actually buying their products from the drop shipper, you are responsible for dealing with lost or broken items. Once you receive a return, you'll then have to negotiate with the drop shipper regarding how to handle the returned item.
The real danger of drop shipping is that you have absolutely no control over the quality or delivery of your products. Especially when your store is in its early stages and trying to establish a reputation, it is absolutely crucial that you deliver and support your products and satisfy your customers.
Profit Margins are Lower
When you drop ship, the amount of profit you make is the difference between your selling price and the drop shippers cost for the item. Since the drop shipper bears the burden of inventory and other related costs, your cost of goods will be much higher than if you were to purchase those same products in bulk and stock them yourselves.
Of course, stocking your own items carries a greater risk if your items don't sell so it's definitely a trade off that you will have to evaluate. This risk however is somewhat mitigated if you choose to sell a product that does not go obsolete.
Competition
Since its so easy to throw up a website and drop ship items from a variety of manufacturers, competition will be fierce.
Many of these drop ship companies provide very good stock photographs of their items which they provide free of charge for use on your website. Since everyone has access to these photos, your product photos will be identical to your competitors making it harder to differentiate your site.
Summary
Of the 3 reasons above, customer support is by far the most important. When you're making a decision whether to drop ship or stock your own items, consider whether you want to be in full control of your own destiny or whether you want to stake your reputation on a third party vendor.
Many online stores apply a hybrid approach. For their most popular items, they keep a small stock on hand ready to ship. For their less popular items, they specify a longer lead time and usually drop ship these items directly to the end customer.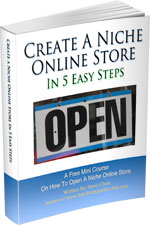 Ready To Get Serious About Starting An Online Business?
If you are really considering starting your own online business, then you have to check out my free mini course on How To Create A Niche Online Store In 5 Easy Steps.
In this 6 day mini course, I reveal the steps that my wife and I took to earn 100 thousand dollars in the span of just a year. Best of all, it's absolutely free!
Similar Posts
Have you read these?