When most people think about starting a company or business, they think of the Microsofts, the Googles and the YouTubes of the world. They tend to think big because the media focuses on these multi-million dollar success stories and over glamorizes the risks and rewards.
In fact, the media tends to portray entrepreneurs like lottery winners because that's what makes the news. Because the chances of creating a company like You Tube or Facebook are so slim, most people shy away from starting their own business because they think it's just way too risky with very little chance of success.
Just the other day, I had one of my readers email me that they were afraid to go out on their own because they didn't want to risk everything for a measly 1% chance at success.
A 1% chance at success? Where the hell did he get this number from? Turns out that he read that "99% of small businesses fail within their first year" which made him believe that he only had a 1% chance of succeeding.
Listen to me. This 99% statistic is complete and utter BS! Starting your own business doesn't have to be the next big thing. And if you do things right, your business doesn't have to be that risky either.
You Don't Have To Hit A Home Run
The first thing that you have to understand is that your business idea doesn't have to be the next Google, You Tube or Facebook to make money.
If you are planning to start a company for the sole purpose of getting acquired for a billion dollars, then your chances truly are one in a gazillion. So instead of buying a lottery ticket, start something that you can make profitable within a short time frame.
Instead of setting your sights so high, focus on what can make you some money now with very little risk. Ignore the glamor and the hit or miss ideas.
Divert your attention to simpler things. The simple things that people are looking to buy. Your idea may seem boring to your friends and family and it may even be mundane, but who cares? Find something that you can do and do it well.
Take a look at Tony Hsieh of Zappos. The man sells frickin shoes over the internet and makes billions of dollars a year. He's successful because he sells shoes in such a way that people want to buy from his company.
If you need a smaller example, take a look at our wedding linens business as well. We sell frickin handkerchiefs over the internet and make six figures every single year.
You don't have to invent the next big thing. You don't even need to do anything fancy. Look for a small niche and exploit it. If someone has already taken your idea, don't let that stop you because the market is probably big enough for the both of you.
If you still don't believe me, take a look around the next time you go shopping or go out to eat. My wife and I just ate at our favorite Chinese restaurant the other night.
But did we go there because it's the only Chinese restaurant in town? NO! In fact, there are probably 50 Chinese restaurants within a 15 mile radius of our house. And all of them have been in business for years. Despite the heavy competition, they still all make money.
By choosing a business idea that is simpler and easier to execute, you can improve your chances of success by several orders of magnitude. You might not strike it rich or make instant millions, but you can make a nice comfortable profit and be your own boss.
Keep The Upfront Costs Minimal
Keeping the risk factors low means keeping the expenses low as well. By creating a presence online, you can easily start your business for only a couple of bucks a month.
Our wedding linens store is an online only store and costs only 80 dollars a month to maintain. If business were to suddenly stagnate, we could literally keep our store open indefinitely at our current burn rate.
When we first started out, our upfront costs were even less. Our web hosting only cost us $6.95 a month at Bluehost and we paid absolutely nothing in development costs. If you just take the time to look around, you can find a lot of free open source software already written for you and ready to use.
These days, it's extremely easy to Create Your Own Business Online. Read my tutorials and get a head start!
If you want the absolute lowest risk business possible, then start a blog or an affiliate marketing site. At $6.95 month, you can keep your website up for as long as you want until you are profitable.
Don't Quit Your Job Until You Are Ready
If you need even more of a safety net, work on your business while you have a full time job. Take your time! Incubate your business within the comforts of your full salary and launch only when you are ready.
My wife and I worked on our online wedding linens business while we both had full time jobs. There was no pressure whatsoever for our online business to make any money early on because we had our salaries to back us up.
Had we not had this cushion, we probably would have made more rash decisions just for the sake of money.
Some people can only be motivated by placing themselves in pressure situations. But if mitigating risk is your most important criteria, then don't quit your day job until your business is already making money.
What Does It Mean To Fail Anyways?
My biggest beef about the "99% failure rate" statistic is that all businesses are lumped into one large category. I'll bet that if this statistic was compiled again for just internet businesses alone that the failure rate would be far less.
These days, it doesn't take much money to start a business and it doesn't cost that much to maintain one either. If mitigating risk is your number one concern, then play it safe and start a low cost internet business.
Pick something simple and build upon it. Businesses take time to grow and you can turn any boring old business into something huge if you have the time and patience.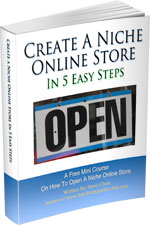 Ready To Get Serious About Starting An Online Business?
If you are really considering starting your own online business, then you have to check out my free mini course on How To Create A Niche Online Store In 5 Easy Steps.
In this 6 day mini course, I reveal the steps that my wife and I took to earn 100 thousand dollars in the span of just a year. Best of all, it's absolutely free!
Similar Posts
Have you read these?