A few weekends ago, my wife and I had the pleasure of attending the annual San Francisco Gift Fair held at the Moscone center. My mom was in town so we left the kids with her and took off to check out the latest gift wholesalers from across the US.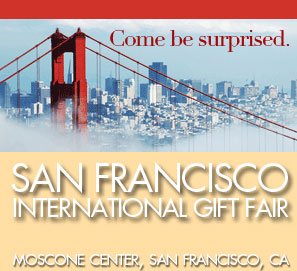 The SF wholesale gift show had the usual requirements to keep out casual shoppers. You needed to show at least 2 forms of id which could consist of any of the following: your business license, LLC or corporation paperwork, EIN number, business credit cards etc…
Young kids were not allowed in and you had to pay a hefty fee to bring in guests that did not have their own business. These rules were in place to make sure that only true buyers and business owners were allowed on the show floor.
Tradeshows Are A Great Place To Find Products To Sell
Tradeshows like the SF Gift Fair are a great place to meet vendors because hundreds of companies congregate under the same roof for several days. And in that span, you can talk to many vendors and discover new products to sell without having to travel more than 500 ft.
Most vendors that attend these trade shows bring along a large collection of products. As a result, instead of having to go back and forth requesting product samples by mail, you can touch and feel all of the products first hand at their booth.
This saves a ton of time with product sourcing and you can get a good idea of product quality as well.
Are You Getting The Best Price?
However, the big problem with vendors at these trade shows is distinguishing the real wholesalers from the middle men. Now there are many vendors out there who call themselves wholesalers but the term wholesale can be very misleading. My definition of a "real wholesaler" is a distributor that is one step removed from the manufacturer.
If you've never been to a wholesale tradeshow before, almost every company that you meet will give you a price list which consists of both a wholesale and a retail price.
The retail price is the "suggested retail price" and is usually around the ball park of 2X the wholesale price. The problem is that unless you have some context for the pricing of the goods you are buying, you will have no idea whether the wholesale prices you are getting are the absolute lowest.
After all, the "retail price" is usually just a bogus number that you can't really expect to charge.
For example, there were several vendors at this show that sold the same or similar products that we offer in our online store.
However, the wholesale pricing that they were offering was a good 2-3X higher than what we could get directly from our vendors in Asia.
In some extreme cases, the markup was upwards of 8-10X. But if you looked at their retail pricing, it didn't appear to be a bad deal. That is why you have to be extra careful and do your homework before making a bulk purchase.
Finding Real Distributors
Distinguishing the middle men from the real distributors takes a lot of time which is why I always recommend using a service like WorldWide Brands in addition to attending tradeshows. Companies like Worldwide Brands help you screen out the little guys and provide useful search facilities for real distributors. You can think of them like a "Google" for true wholesalers of goods.
A good strategy for sourcing product is to attend wholesale tradeshows to obtain ideas for what you want to sell and then use Worldwide Brands to track down a true distributor for that product.
While my wife and I didn't find any new vendors for our online store at the SF Gift Fair, we did come away with a ton of new product ideas.
Some Other Observations
This may only be true with my particular niche, but I found it extremely odd that many of the vendors on the show floor did not have their own websites. And those that did had really crappy ones.
We even met one company that not only didn't have a website but didn't accept credit cards and didn't have an email address either! All business was conducted via phone or fax and you had to manually request samples of new product before ordering.
But despite still living in the stone ages, this company had been around since 1927!
The key takeaway here is that even though there are a ton of ecommerce companies out there, I strongly believe that technology has still not caught on with the majority of shop owners.
While this trade show only represents a small sampling of the US, the fact that we saw many vendors completely neglect their online presence indicates to me that those with web skills or web initiatives have a clear opportunity here.
Start an online business online now! As my wife and I walked the show floor, we saw many companies doing business the old way that could easily be done better online.
Do your research when sourcing your products, avoid the middlemen, throw up a web store and I guarantee that you'll rock these dinosaurs over time.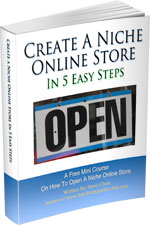 Ready To Get Serious About Starting An Online Business?
If you are really considering starting your own online business, then you have to check out my free mini course on How To Create A Niche Online Store In 5 Easy Steps.
In this 6 day mini course, I reveal the steps that my wife and I took to earn 100 thousand dollars in the span of just a year. Best of all, it's free and you'll receive weekly ecommerce tips and strategies!
Note: This post above may contain affiliate links, which means that I may receive a commission if you make a purchase when clicking a link. Please consult our privacy policy for more information.
Similar Posts
Have you read these?