One of the many worries of starting your own business is getting stomped on by large hulking competitors in your market space. Large companies have more money, more manpower and more resources so how could a small business possibly compete?
First of all, if you are trying to go head on against a large company, you are probably going to lose. Ever watch the movie 300? You can't just charge in head first against your larger brethren and hope to succeed. You need to take advantage of your small, agile size and use guerrilla tactics to make your business stand out.
Every small business has many advantages over its larger competitors. Here are some things that you can do with your small business to give yourself an edge.
Give Personalized Service
Large businesses will always have issues providing personalized service to their customers. With fleets and fleets of customer service agents to train, it's almost impossible to ensure consistent service unless they all follow the same script.
Large businesses have very little flexibility. In order to convey a consistent message to the customer, employees must follow a rigid set of guidelines set by the company. Ever call customer support for a large company like Dell? Did you feel like your customer service rep was reading off a script? Worse yet, did they have a horrible accent?
As a small business, you have the time and opportunity to treat every single customer like they are your only customer. When a customer calls, make the extra effort to get to know their names and to figure out exactly what problem they are trying to solve.
Whenever I answer the phone for our wedding linens store, I almost always ask for details about the wedding. Especially if it's the bride on the phone, chances are that they are extremely excited about their wedding and want to gush over the details.
It may seem like a chore to some people, but I honestly enjoy hearing about other people's wedding experiences. As a result, offering personalized service is usually not a problem for me.
In the process of getting to know the customer, I can usually extract important details about what they are looking for and offer them other items that may be of service as well. Sometimes, the customer doesn't know exactly what they want and you have to point them in a certain direction.
For example, I've encouraged several brides to hand make their own wedding favors using our wedding linens to add a personal touch to their wedding.
If I've established a rapport with a customer, I can usually extract valuable feedback about our online store and obtain helpful information about what we should stock on our virtual shelves. I remember one customer who told me about her ingenious wedding favor idea which eventually turned into one of our hottest crafts.
Most importantly, I try to make the customer feel at home and comfortable shopping with us. I'd say that nine times out of ten, a pleasant conversation with a customer results in a guaranteed sell. More often than not, the customer then goes on to refer someone else as well.
Can a large business replicate this kind of service? It's extremely difficult because the large fleet of customer service reps don't have the same vested interest in their company as you do. Take this opportunity to translate your passions straight to your customers.
Bend The Rules
Most large companies have strict guidelines and policies. As a small company you can be malleable and adjust your policies as you see fit. One of your biggest assets is flexibility and you have the opportunity to treat every customer in a unique fashion.
For example, we once had a customer that wanted to print their wedding invitations directly onto our handkerchiefs. Instead of telling them that we didn't offer fabric printing services, we took the time and hooked them up with a list of printing vendors in their area.
This customer really appreciated our help and was extremely grateful. I'd be willing to bet that she refers us to her friends whenever she can.
There are other little things that we do as well to make the customer feel special. For example, if the customer is late on a return, we usually let it slide. Sometimes we even give free items depending on the occasion. All of these little things add up over time and the word soon spreads.
Take Advantage Of Your Agility
One of the greatest assets of being small is the ability to make quick changes to your business at a moments notice. If you want to stock an item, it can be up on your website the next day. If you want to change your store policies, you can do it immediately.
Large companies have to go through layers and layers of bureaucracy in order to make even minor changes to their business. For example, when a large conglomerate like Target wants to stock a new item, they have to work out the logistics of stocking it in all of their stores and work with their large distribution chains to make it happen.
Large companies can also forget about making quick policy changes. All decision making must go up and down the chain of command and then be conveyed to the workforce as well.
When my wife and I first launched our store, we played around with several variables such as free shipping, product bundling and discount coupons so we could see what worked the best. Sometimes we changed our policies on a weekly basis.
We also experimented with different personalized products to see what sold the best. If a large company decided to do the same thing we did, they would have had to stock all of their stores with expensive equipment which would have presented a logistical nightmare.
Don't Be Scared Of Being Small
Instead of being afraid, you should embrace the fact that you are a small business. Don't be ashamed and don't try to act bigger than you really are. Like a child, your business will only be small once so take advantage and appreciate it while it lasts.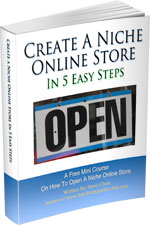 Ready To Get Serious About Starting An Online Business?
If you are really considering starting your own online business, then you have to check out my free mini course on How To Create A Niche Online Store In 5 Easy Steps.
In this 6 day mini course, I reveal the steps that my wife and I took to earn 100 thousand dollars in the span of just a year. Best of all, it's absolutely free!
Note: This post above may contain affiliate links, which means that I may receive a commission if you make a purchase when clicking a link. Please consult our privacy policy for more information.
Similar Posts
Have you read these?