If you've been following the status updates for my ecommerce store, you're probably aware that my wife and I were planning on launching 3 brand new product lines for our online store this year.
But thanks to numerous hiccups in the manufacturing process and a major strike at our local port, all of our products were majorly delayed.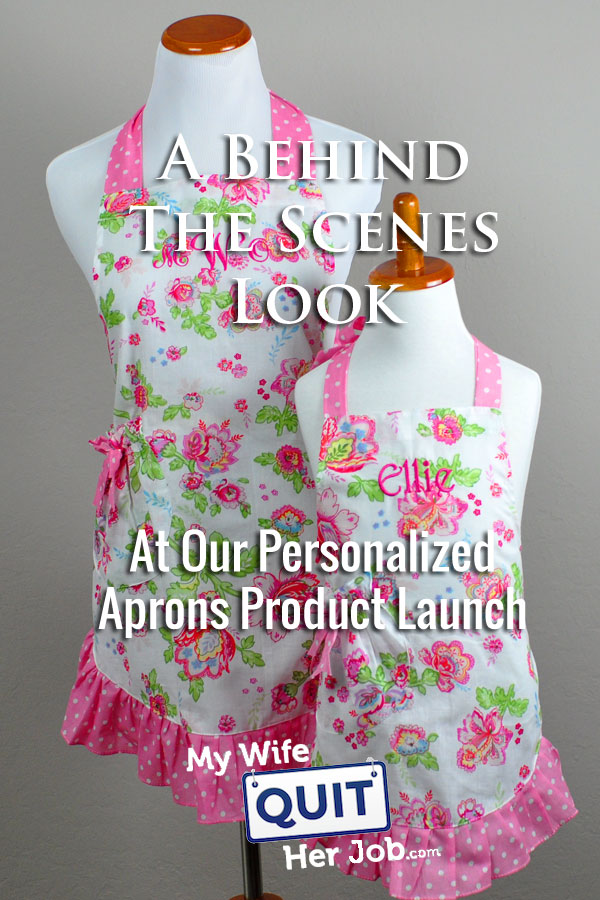 The good news however, is that nothing got lost in the ocean and our first new product line, vintage and retro aprons, arrived late last month(over 4 months late)!
While it sucks that we were expecting these babies back in January, we were fortunate that they arrived early enough for us to make a mad scramble and get these up in time for Mother's Day.
Anyway, today I'm going to talk about all of the different tasks required to launch a new line of products.
Hint: There's actually quite a few steps involved before making any sales.
Taking Product Shots
Up until this point, almost all of our products were small items like handkerchiefs or napkins. As a result, we were used to using our light box to take photos quickly and easily.
But these aprons were a different beast because they were too large to fit in our light box.
Anyway, my wife and I tossed around several different photo taking strategies.
We tried taking photos of our aprons laid out flat on the floor. We considered hiring models for a more professional look. We even entertained the idea of modeling these ourselves.
Here's a picture of me modeling our Vintage Inspired Sweetheart Aprons.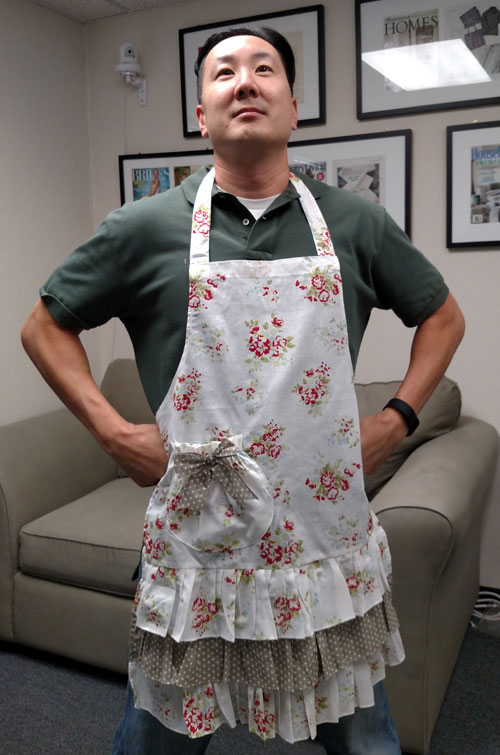 Ultimately, we decided to order some mannequins from Amazon for about 70 bucks each. We got an adult one and a child one since we were selling mother daughter apron sets.
Prepping For Personalization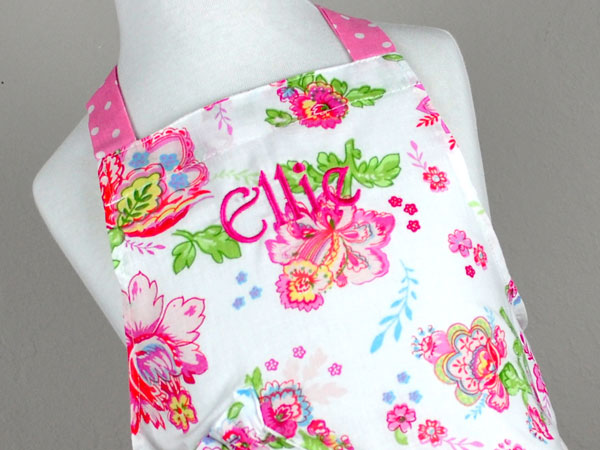 Now there are a lot of shops out there selling vintage aprons and there are a lot of shops selling plain personalized aprons. But there are very few selling personalized vintage aprons.
Rather than be a me-too apron vendor, we decided to offer monogramming and personalization on our vintage inspired aprons. Now there's a reason why a lot of vendors don't offer custom embroidery.
It's a pain in the arse!
To offer embroidery, not only do you have to choose a well digitized font but you also have to perform test stitches on the fabric to make sure that it doesn't bunch up. You also have to make sure everything is sized correctly and find appropriate matching thread colors.
Sometimes the thread breaks. Sometimes the machine chews up the fabric. The process is very manual. But as the saying goes, the more you are willing to do, the more you'll stand out in a crowd of competitors.
Anyway, after a bit of trial and error with different fonts and thread colors, my wife finally came up with a plan for each one of our apron styles.
Here's a picture of the final product with embroidery. I think they turned out pretty well.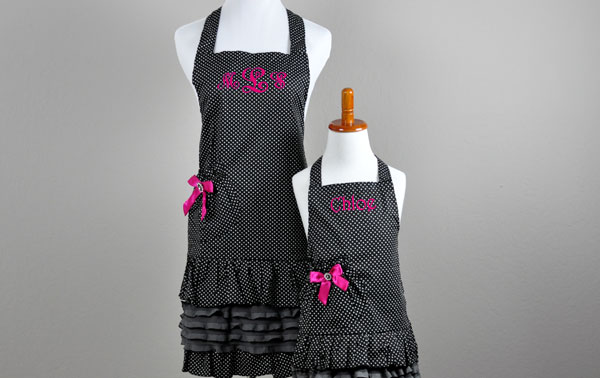 Buying Ads On Adwords
The next step was to get some initial traffic to our product listings via Adwords. For all of you who are unfamiliar with Adwords, Adwords allows you to drive very targeted traffic to your website via paying for clicks on Google search.
Now it's been a while since I've launched a fresh campaign on Adwords so I was a bit shocked by the initial bid price for my keywords. They wanted 2 dollars per click!
Anyway, I tinkered around with my landing pages and product titles until I had a decent quality score of at least 7/10 which brought the bids down to about a buck. And then I let it ride.
As my ads started running, I regularly checked my traffic and keywords multiple times a day to add negative keywords into the campaign.
I also did some back of the envelope calculations regarding the maximum amount I was willing to bid as a function of average profit per sale and a worse case conversion rate.
After some back and forth tinkering over a period of weeks, I finally settled on both a set of ads and a set of bids that were not only profitable but far below Google's recommended bid amount for our products.
Note: I'm oversimplifying this process for the sake of brevity but Google Adwords is a great way to drive targeted traffic to your listings to gauge demand and to find any problems with your landing page.
Buying Ads On Google Shopping And The CSEs
After getting our Adwords campaign in order, we also listed all of our products on Google Shopping and the comparison shopping engines.
The comparison shopping engines are awesome because a customer has context and price before they click on your ad. As a result, the conversion rate for comparison shopping engines will tend to be higher than regular query based pay per click advertising.
For more information on the comparison shopping engines I use, please read the following posts.
Reaching Out To Mommy Bloggers

Finally, my strategy would not be complete without some outreach to influencers in my niche. Because we wanted to target our aprons towards Moms on Mother's Day, it made sense to reach out to some mommy bloggers to help with the promotion.
Over the years, I've met a bunch of Mommy bloggers from going to conferences and doing random outreach. And I've gotten to know some of these bloggers so well that I'm happy to call them my good friends.
Here's a small list of bloggers helping out with the launch. You should definitely go and check out their blogs because they all have MASSIVE audiences.
Reaching Out To The Press
Unfortunately, we received our products too late to be featured as potential Mothers Day Gifts in magazines. But we are currently reaching out to several magazines and publications to feature our aprons in future issues.
Our goal is to get some press in time for the holiday season when the higher volume sales will occur. And it's important to note that a lot of the major publications have extremely long lead times so it's best to start the research early and keep your eyes open for potential press opportunities.
Summary
If you take away anything from this post, it's that manufacturing your own products is only half of the battle.
Once you have your products in hand is when the real fun begins. When you first launch a product line, it's not going to rank in Google and it will probably not receive much organic traffic.
As a result in the beginning, you have to make the sales happen by hand and often times this requires a lot of grunt work!
Early on, it also helps to take advantage of large marketplaces like Amazon and to leverage your email list to get the word out.
In the meantime, if any of you want to give an awesome gift for Mothers Day, check out our line of personalized mother daughter aprons by clicking here!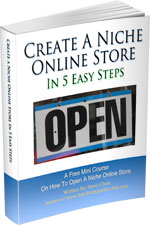 Ready To Get Serious About Starting An Online Business?
If you are really considering starting your own online business, then you have to check out my free mini course on How To Create A Niche Online Store In 5 Easy Steps.
In this 6 day mini course, I reveal the steps that my wife and I took to earn 100 thousand dollars in the span of just a year. Best of all, it's absolutely free!
Note: This post above may contain affiliate links, which means that I may receive a commission if you make a purchase when clicking a link. Please consult our privacy policy for more information.
Similar Posts
Have you read these?