This is a guest post from David Ning, who runs a well established personal finance blog aimed at helping people spend responsibly, invest intelligently and live happily.
In fact, David's blog at www.MoneyNing.com was one of the first blogs that inspired me to start a blog of my own. So it is a great honor today that I have him guest post for MyWifeQuitHerJob.com. Oh and did I mention he quit his day job?
Giving It All Up
A few months ago, I decided what people would consider crazy. I gave up over $100k in salary a year to make 30% in business income. If you didn't think I was insane yet, please consider that:
I got married less than a year ago
My wife and I want to buy a house within 2 years in Southern California (where home prices are still outrageously expensive)
We plan to have kids around the same time
Convinced that I'm nuts? Hey. If anything, it landed me a cool guest post with this blog, so hush and read on.
Editor's Note: If anyone wants to guest post here at MyWifeQuitHerJob.com, I'll only charge you 50k. David paid full price:)
A Little Background
I loved computers all my life, so I naturally went on to study Computer Engineering. After completing my Masters degree, I was happily working in information technology, where people often call me the guy who worked in the dark room. I was doing okay back then, but working in front of the computer all day certainly didn't help my social skills.
One day, I heard about a sales position coming up and I jumped on the opportunity. My friends were all surprised at the decision because I was totally different than the stereotypical salesperson.
I was shy, I was quiet and I hate small talk. So naturally, no one was encouraged by my decision but I knew that it would be the quickest way to force myself to learn how to interact with people (something I feel most Engineers lack).
I knew that even if I failed miserably in sales, it would be a good lesson learned. What other people saw as a risk (the lost of job and time) was not my concern at all. I couldn't possibly be lucky enough to "never having a job" for the rest of my life right?
The rest was history. It turned out that my customers actually liked the way I am, because they are tired of how most salespeople are like. They appreciate the fact that I was actually technical enough to speak to them intelligently about the products. At the end of my sales career, I was making over $100k a year.
Saying No to Salaries
It was actually an accident that I started my online business. At the time, I saw that blogging was becoming popular and I figured I would start one, resulting in Personal Finance Blog by MoneyNing.
By the middle of 2008, I was making a couple thousand dollars a month through various online activities (blog, consulting etc), not to mention that it was becoming impossible to keep up with my day job which requires me to travel to different cities within the United States almost every week.
I needed to make a choice then – either continue with my sales career and give up my online business (or dramatically scale it down) or give up my job. I choose the latter.

Why Entrepreneurship is Just Better
I chose to become an entrepreneur because I'm no longer building for someone else. There was nothing everlasting about my job because my salary (commissions) were heavily based on new customers.
It didn't matter much that my customers kept buying from me because I needed to find new ones or my income would drop significantly. In a way, my customers actually became some sort of a burden because of my ridiculous compensation structure. With my business, I'm building for myself. Even if I maintain the current level of activity, my income won't change.
Other benefits of Entrepreneurship Include:
Accountability – When you own your business, you are ultimately responsible. It's amazing how productive you can be when you stop complaining.
Freedom – While many will tell you that working as an entrepreneur usually means more hours than a typical corporate job, you will be relieved to hear that the hours are more flexible. You don't have to wait till lunch time to do your errands. You don't have to pay extra for a vacation on the weekend because you can always make that work time back on Saturdays and Sundays.
Passion – Some people are passionate about their career and job but as an entrepreneur, your passion can be even finer grain. People with jobs are passionate about their position, or about the industry they are in. Entrepreneurs can be passionate about all that as well as the daily activities they are in. If you don't like to do a certain task, you are probably not as productive at it so you can always outsource it.
Drive – The incentive to be productive is not the same for someone with a 9 to 5. When your income solely relies on your ability to perform, your work ethic will improve dramatically.
Health – While I was in sales, sleeping 5 hours a day and eating junk food was normal because I was flying all over the place and often arrived in a city very late at night. Since I became an entrepreneur, my hours are much more flexible so I was able to sleep more and enjoy my wife's cooking. (Editor's Note:…and haircuts)
Be Your Own Boss – My boss won't be yelling at you just because your views don't align. You are your own boss so instead of spending time arguing, every minute of work consists of productive activities.
Safety – Most people think that jobs are much safer but can we actually say that anymore in the modern society with no more pensions and people switching jobs every couple years? Many people I know were laid off while I continue to operate my business. When I am an entrepreneur, the decision to stop my income is mine.
We Let Opportunities Go By All the Time
Many opportunities past by us on a daily basis, yet some just believe in luck.
When was the last time you switched careers with a short term setback because you believed in the long term prospects?
When was the last time you started hustling because you wanted the additional comfort of having a second income?
When was the last time you actually acted on your instincts to explore the unknown?
Let's fast forward a couple months to today. While I'm not making $100k a year yet, I'm mighty close.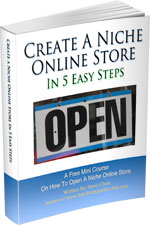 Ready To Get Serious About Starting An Online Business?
If you are really considering starting your own online business, then you have to check out my free mini course on How To Create A Niche Online Store In 5 Easy Steps.
In this 6 day mini course, I reveal the steps that my wife and I took to earn 100 thousand dollars in the span of just a year. Best of all, it's absolutely free!
Similar Posts
Have you read these?