As part of my online store course, I've implemented a rewards system where students can accumulate "points" for participating in various activities in the class.
For example, class members can earn points for attending office hours, posting in the forums or reaching certain milestones with their online shops.
These points can then be redeemed for various prizes depending on the quantity.
One of most useful prizes I offer is the ability to trade in points for a video website critique.
And today, I want to share with you an online store critique that I recently did for Foxy Fly Travel, an online store that sells memory foam travel pillows to the Australian market.
A Special Thanks
First off, I just want to thank Marin and Jess for giving me permission to post this review publicly for my readers. Normally, all video critiques are strictly confidential and only available to members of the class.
And since I take a "no holds barred" approach to my critiques, it takes a lot of guts to put yourself out there for review so please be polite and respectful in the comments section after watching the review.
A Brief Introduction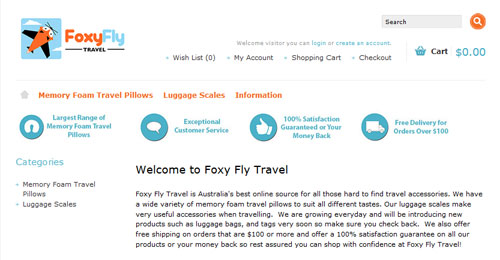 In any case, here's a little background about Marin and Jess so you can get to know them a little bit better and get some context for their entrepreneurial journey.
How did you come up with the idea for your niche?
It was actually quite difficult to come up with a niche that was in demand, not very competitive and something we enjoyed. Since we both love to travel, we thought it would be a good field to look into.
The idea for our niche came about when we were sitting on our couch watching TV!! One day we were at home lounging about and noticed that we had a microbead travel pillow on our couch that we had purchased on one of our trips.
We've had that travel pillow for quite some time but have only used it a handful of times as it wasn't the most comfortable pillow to rest on (but Jess didn't mind it so much)!
When we started searching for vendors, we sourced samples from many of them and found that the memory foam travel pillows were a lot more comfortable and felt far superior.
Ultimately, we found a vendor that could make pillows in different shapes and sizes as we realized what was comfortable for one of us wasn't comfortable for the other.
Do you have a technical background?
Being in accounting and sales, we both work in an office and use a computer everyday. That's about as technical as we get.
Why did you create this website and what is your goal with your business?
We started this website because it's something we have wanted to do for a long time. We have always wanted to start an online business of some sort but didn't know where to begin.
Since we are trying to start a family, we would love for it to be a source of extra income and our goal is for it to replace at least one of our salaries so that one or both of us can eventually quit our day job.
We are also planning to expand our product range to sell other travel accessories once we are successful in selling our memory foam travel pillows.
What other businesses have you started in the past?
We have never started any other business in the past. This is our first attempt.
Do you have a day job?
Yes we both have day jobs. I am an Accounts Payable Supervisor/Assistant Accountant for a private U.S owned company that manages prisons. Jess is a Sales & Marketing Co-ordinator for an Australian hotel chain.
What do you like about the course and how has it helped?
The thing we love most about the course is that it has given us motivation and a positive attitude towards giving it a shot. Before coming across Steve's blog and course we never thought we could do anything like this.
We always wanted to start our own online store but had in our mind that it was way out of our league. But seeing so many other students in the course opening successful online stores has given us confidence.
Steve covers pretty much everything you need to know in his course such as video demonstrations for different stages of building your online store, website critiques on his students websites, giving feedback and the bonus of having a discussion section where we can ask questions to Steve and other students, etc.
Having that support has been extremely helpful and valuable. Without this course, we definitely wouldn't have made it this far!
Why did you choose open source vs a fully hosted shopping cart or vice versa?
We chose an open source shopping cart because we wanted full control over our store and didn't want to be limited or ask for assistance when changes were required. We wanted to be able to make tweaks and changes whenever we needed to ourselves.
We also figured that we would learn more doing it this way and be more involved technically to get a better understanding which is what we wanted. We chose Open Cart because of its simple admin backend and because we liked the Shoppica theme.
What was the most challenging part about starting an online store?
We have found many things to be challenging with starting our online store; such as:
Learning and making changes to the HTML, CSS and PHP code.
Taking our own product pictures and making them look professional.
Writing the content.
Marketing our store to attract customers/traffic and converting them to sales.
The initial stage of finding a reliable vendor and having a backup in case something happened.
But the most challenging part was staying motivated and pushing through the road blocks. We have found ourselves being stuck on certain things for long periods of time and becoming disheartened on several occasions.
It's been a real challenge to get past those moments but we've come to realize that once we worked through whatever the issue was, we felt a sudden rush of confidence and excitement to continue on.
The Video Critique
Below is the actual website critique that I gave Marin and Jess during one of my office hour sessions. While it's still early and they haven't implemented many of my suggestions yet, they recently received their first few sales!
Here are a few technical specs regarding their website for your knowledge.
Start Your Own Online Store
If you are interested in starting your own online store, feel free to check out my course at ProfitableOnlineStore.com. And please feel free to leave your own feedback for Marin and Jess in the comments section below. They will appreciate your opinion.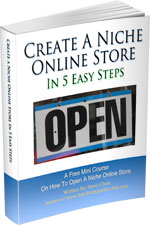 Ready To Get Serious About Starting An Online Business?
If you are really considering starting your own online business, then you have to check out my free mini course on How To Create A Niche Online Store In 5 Easy Steps.
In this 6 day mini course, I reveal the steps that my wife and I took to earn 100 thousand dollars in the span of just a year. Best of all, it's free and you'll receive weekly ecommerce tips and strategies!
Note: This post above may contain affiliate links, which means that I may receive a commission if you make a purchase when clicking a link. Please consult our privacy policy for more information.
Similar Posts
Have you read these?